Introduction
One of the bad habits of the 21st century is to drag electronic devices wherever we go - I'm not different here and I would hardly go to the desert without any technical device. Some of them I carry with me simply for security reasons (DeLorme, Phone) - some are for fun (Camera). I'm not the kind of person who leaves life-saving items at home simply because I can or it's fancy to be oldschool - I'm pretty sure that I would heavily regret this decision once I'm in a situation where my satellite messenger is the only and last option I have and will decide whether I will live or die.
The downside of these electronic devices is: They need power, as I already pointed out in the two articles (1, 2) around planning desert hikes. In this article I want to provide some details how my technical device & power supply landscape looks like.
Disclaimer: I didn't receive any free items/benefits from any companies mentioned below - all experiences listed below are my own and have not been influenced by the companies themselves.
Technical Devices
Several items I usually bring along to desert hikes require electronic power. In the past, they normally required standard batteries (rechargable/non-rechargable) but those days are (fortunately) over - most of my devices today can be charged by simply using an USB cable which then charges an internal battery. Although this concept has some disadvantages (which I will not cover in this post), the main benefit is that you need one energy source + the right USB cables to charge them all. This significantly reduces the complexity of your environment. Below, you can find a list of my items which, depending on the trip, I potentially take with me to the desert. I added information how they can be charged - a detailed list of USB cables/plugs can be found here:
Sony MP3 Player: proprietary (bad Sony!) plug –> USB
DeLorme InReach Explorer: Micro-B USB plug –> USB
Steripen Ultra: Micro-B USB plug –> USB
Fuji X-T1: Micro-B USB plug –> USB
GoPro Hero 3+: Mini-B USB plug –> USB
Tikka RXP: Micro-B USB plug –> USB
Nexus 5X Phone: USB-C plug –> USB
Mavic Pro: non-USB –> 220V Europlug
So in case I want to take all of them with me, I need to bring along 5 cables, 4 covered via USB (Mini, Micro, USB-C and proprietary) and 1 special for the Mavic which we focus further down below.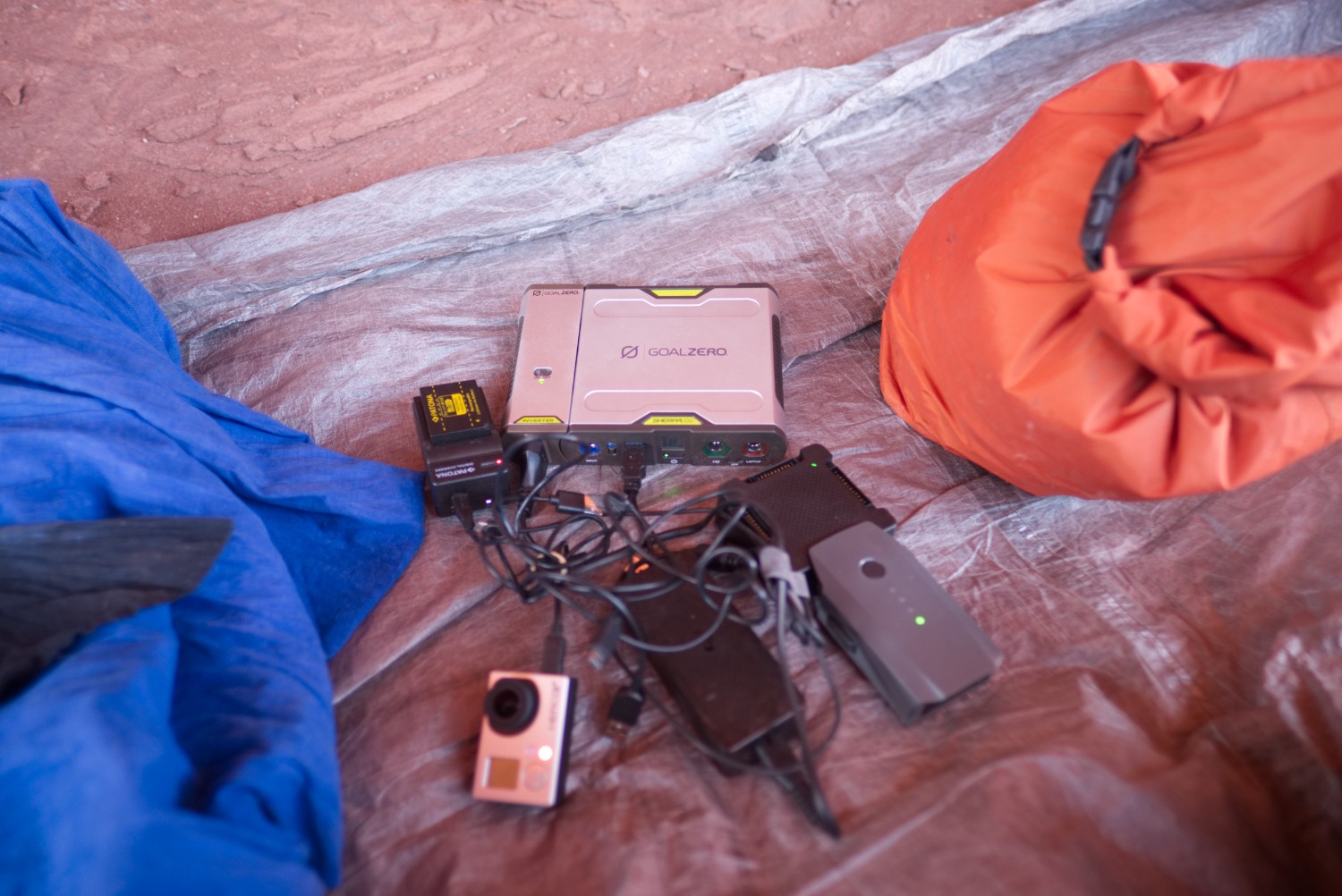 Power Management
Since we have covered now how the devices can be charged, we need to talk about the energy source and how this source can be refilled.
On long desert hikes, the most important aspect is not how much energy your source/battery has - but how you can constantly refill it. Of course you can buy plenty of batteries in order to be covered with energy for weeks, but this is neither an economical nor an ecological solution (batteries are heavy as well). As you can imagine, the sun provides an excellent and endless source of energy that you can use on longer trips to refill your batteries during the day and charge your devices during the night.
I basically use two battery devices which have been proven as very reliable: Goalzero Venture 30 and Goalzero Sherpa 100. As solar panels, I use the Nomad 13 and the Nomad 20.
Why Goalzero? It's beneficial to buy your batteries and solar panels from one brand, be it Goalzero or any other one, since you will encounter less compatibility issues. It's sad that this is the way it is since it would be great to have defined compatibility standards across the industry to guarantee that no issue with different brands come up – this is unfortunately not the case yet. I made very good experiences with Goalzero so far and I can confirm that their items are quite durable, sand and dirt did not hurt them in my case. However, some of their items seem to be quite pricey. I'm pretty sure there are other brands that also create awesome and durable items - until today, I didn't have the need to search for an alternative though.
I have to mention that the original USB Micro-B cable from the Venture 30 package broke on the last trip which is not a drama, but it's wise to have a backup for mission-critical cables.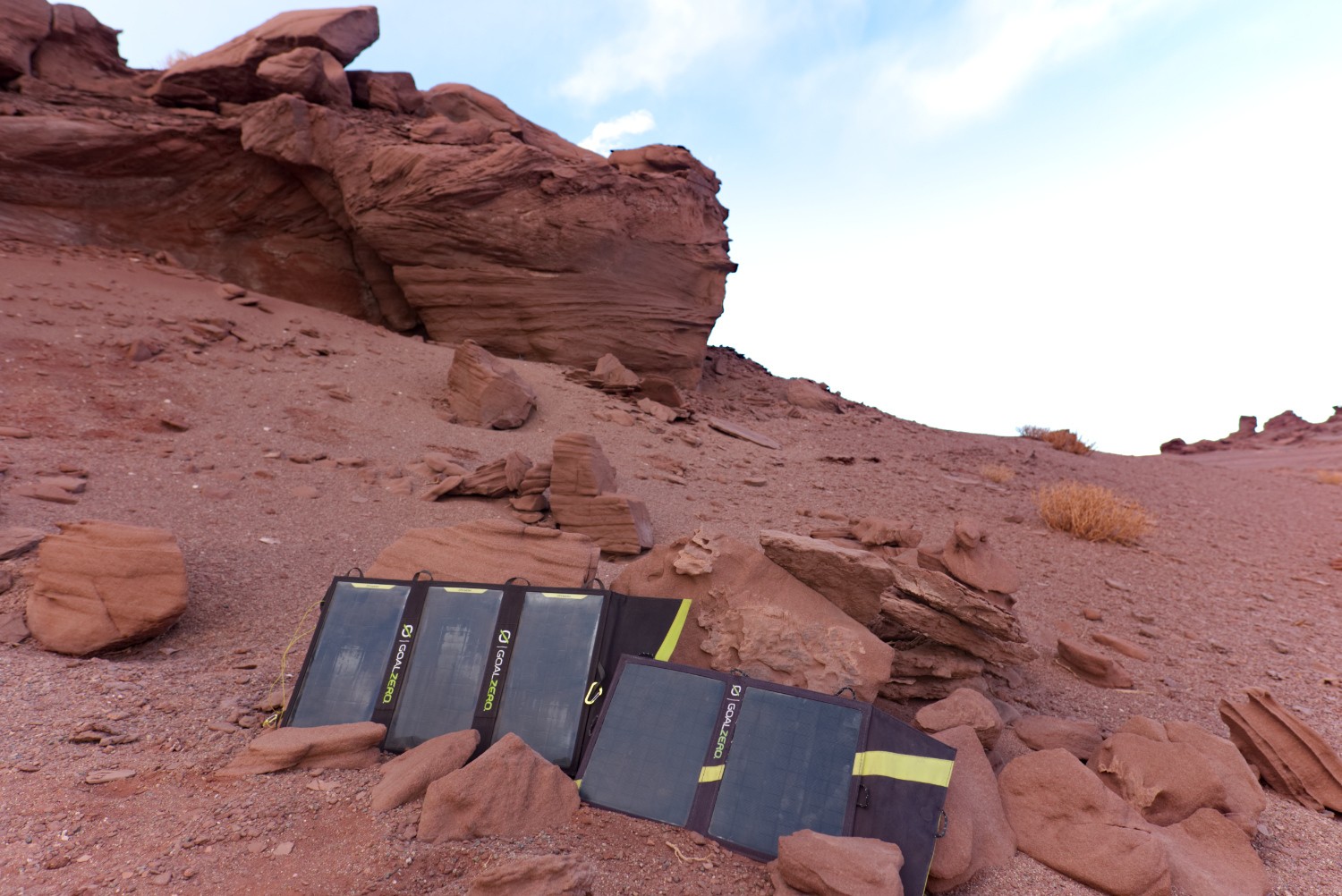 Batteries & Solar Panels
The Venture 30 (30Wh, 7800mAh (3.6V)) is a lightweight battery which I primarily use in order to charge all USB-compatible devices listed above. It makes up a perfect combination together with the Nomad 13 Solar Panel. Normally, the Nomad 13 charged the Venture 30 in one day easily, then I had the complete night to charge the different devices in accordance with their priority (DeLorme first, GPS second etc.)
When you intend to take a device with you that requires more power, I recommend the Sherpa 100 device (98Wh, 8800mAh (11V)). It's heavy, which is definitively a disadvantage, but you will get a lot of power in return. I used the Sherpa 100 on our recent trip through the Puna in order to recharge the Mavic Pro batteries since the Venture 30 is not able to load them (non-USB). I would not take the Sherpa 100 + Nomad 20 with me in case I don't bring along devices like the Mavic Pro.
With a fully loaded Sherpa 100, I was able to charge 1 Mavic Pro battery (you need the Inverter for that) + recharge most of the important USB devices mentioned above each evening. Keep in mind that not all of them are empty after one day - so you just have to fill them up again which takes less energy depending on how much you used them (see discussion here). With the Nomad 20 you will be able to fully charge the Sherpa 100 in one day - with the Nomad 13 it will hardly be possible.
On our Puna trip, we charged the Venture 30 with the Nomad 13 on one trailer and the Sherpa 100 with the Nomad 20 on the other one. This gave us plenty of energy we primarily needed for the Fuji (videos / photos) and the Mavic Pro. The Venture 30 was used to charge all USB devices while the Sherpa + Inverter charged the Mavic Pro batteries. Both batteries have 2 USB output plugs which allowed us to charge devices in parallel.
The great advantage of buying all stuff from one brand in this case is: you can plug the Nomad 20 and the Nomad 13 together in order to increase the power to load your batteries - this worked extremely well on the recent trip.
Conclusion
The setup discussed above works very well for my scenarios, but again, don't forget to consider the sun aspect: The high deserts of South America are hardly cloudy when you go at the right time and hence provide a perfect landscape for solar panels. So it really depends on the right area / time.
One point of complaining is always the weight of batteries & solar panels, but this will hardly change in the near future. The alternative would only be to leave some of the devices at home which is not an option for me right now.