In July/August 2016 I crossed the Altiplano / Puna region along the Ruta de las Joyas Altoandinas between the Salar de Uyuni (Bolivia) and San Pedro de Atacama (Chile) by foot and solo over a distance of approx. 600 Km. This is a very popular 4x4 vehicle trip nowadays amongst South America backpackers since it follows dusty routes through the beautiful national park "Reserva Nacional de Fauna Andina Eduardo Avaroa" along amazing remote lagoons where visitors can view the earth basically living. I brought a hiking trailer with me in order to carry most of the equipment and water/food supplies.
After arriving in San Pedro de Atacama and a few days of recreation, I continued my desert hiking trip over the Andes via Paso Socompa down to Tolar Grande in Argentina. This trip will be the subject to another blog posting.
In this longer blog posting, I want to share my experiences and thoughts with potential future hikers and adventurers that intend to visit this amazing place by foot. My intention is to fill in the gap that exists in terms of baseline trail information - right now, the only reliable source of information is the long-distance bicycle community which I will describe further below.
The Altiplano / Puna region is a unique but fierce place on this planet which consists basically of one huge, active volcano field (Altiplano-Puna Volcanic Complex). On this amazing trip you will encounter extraordinary nature unique on this planet as well as amazing local people and culture. The altitude, the tough weather conditions and the rough landscape are just a few characteristics that make the Altiplano / Puna region unique in this world.
So you need to do your own research beforehand - situations and conditions are changing rapidly in this area and the information below could be outdated by the time you read it. The setup described below worked for me - perhaps it does not work for others. Especially if you are hiking alone, prepare properly. In terms of equipment, I brought hiking gear for tough winter/arctic as well as for desert conditions.
Route Overview
I started in Uyuni, the touristic hometown of the Salar de Uyuni, headed West in order to cross half of the Salar de Uyuni salt flat before I turned South from Isla Incahuasi, the most famous island in the salar. The Salar de Uyuni is a world known sightseeing hotspot and considered to be the biggest salt flat on our blue planet. After my days in the salar, I headed South leaving the salar towards the towns of Colcha K and San Juan. This is where the real adventure began while crossing the salar was more like a warm up phase.
I visited the different lagoons, slept near the highest geothermal field in the world called Sol de Manana on roughly 4850m and took a bath in the multiple hot natural termal pools on the way. Finally I popped out of the high desert at the border of Bolivia with Chile close to Laguna Blanca.
Section 1: Uyuni to San Juan
Environment:
This is the warm up phase, the easiest part due to the following facts: the environment is relatively flat and low from an altitude perspective (3600m - 4000m) with excellent trail conditions. Exception: the mountain crossing to Colcha K which goes up to roughly 4300m for a short time. But even this one you can circumvent by surrounding the mountain instead of crossing it. So all in all, doable and a great environment to get in shape.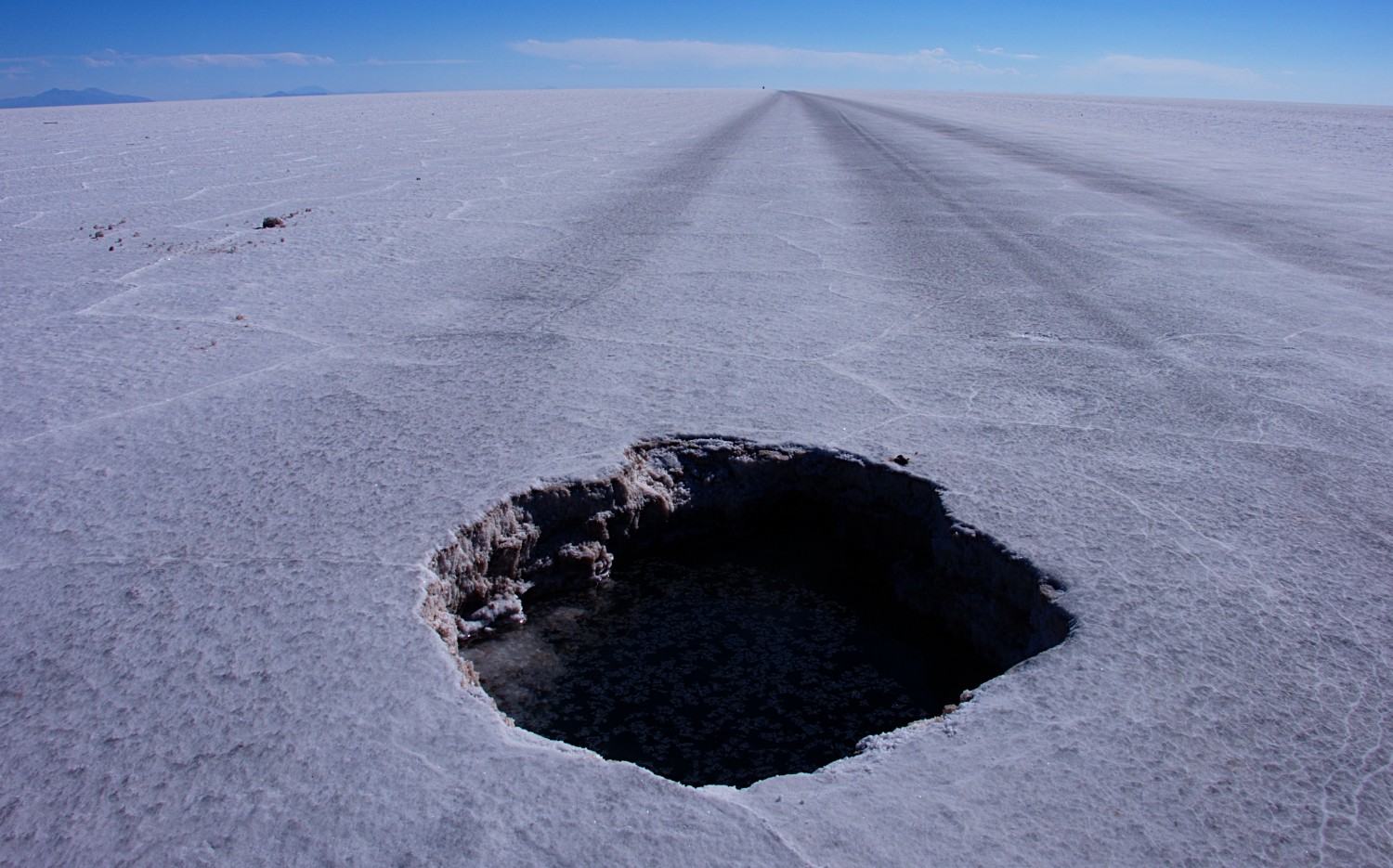 Trail Conditions:
Especially in the salar you will encounter excellent trail conditions and your trailer will run almost on its own. Be aware that in case you start from Colchani, close to Uyuni on the east coast of the salar, there will be increased 4×4 traffic for the first 20-30 Km which will get less later on. The southern area of the salar can be humid/swampy depending on which trail you take and the time of year. I recommend to stick to the 4×4 trails which I didn't do. I had some difficulties although it was dry season but it's still doable.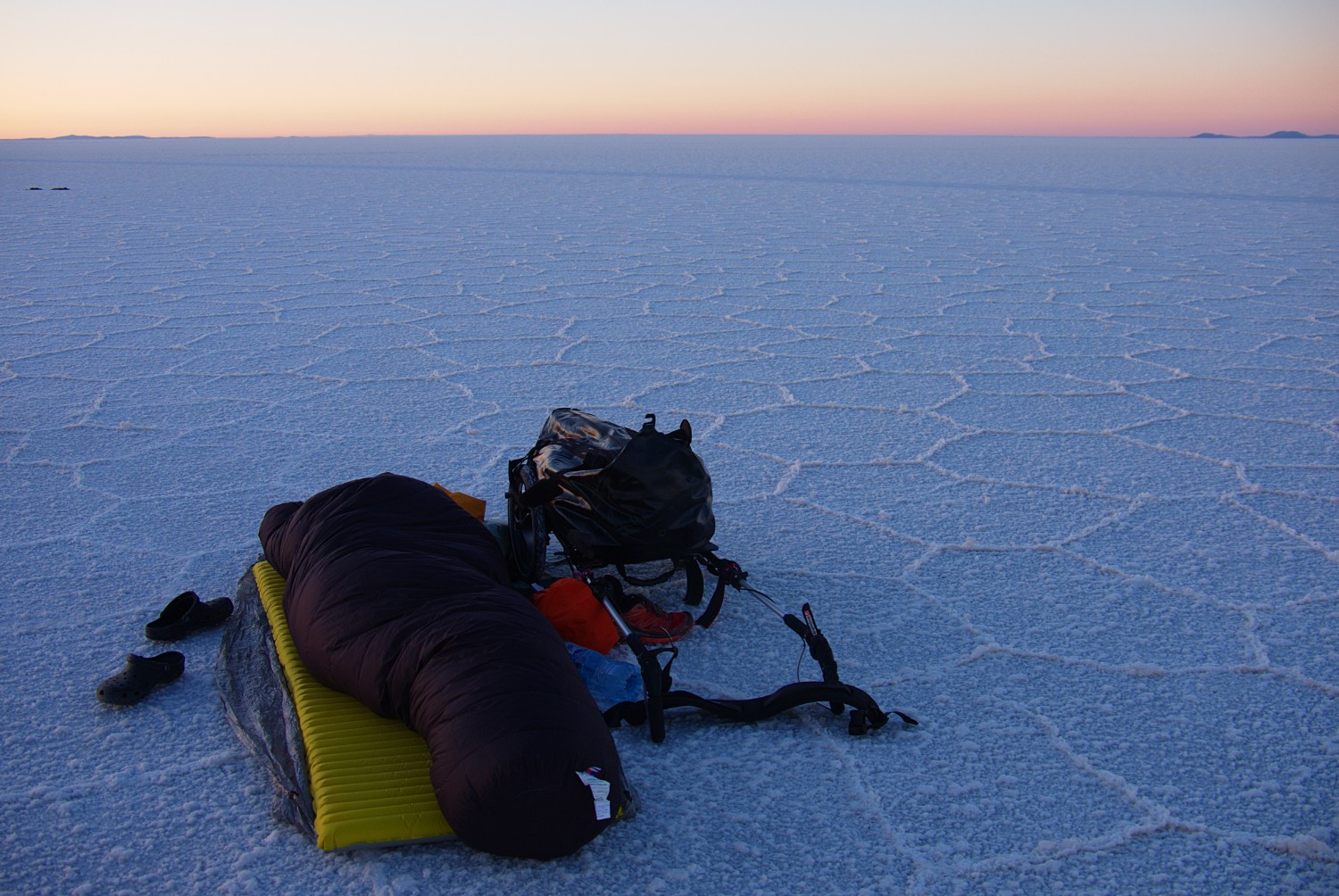 The trail over the mountains to Colcha K is supposed to be made for 4x4 vehicles, but it doesn't look like it has been run by a 4×4 in the last 5 years. It's basically an animal trail and partly in a pretty bad shape with huge rocks on the trail. The situation is getting better the closer you get to Colcha K. The climb over the mountains will reimburse you with great views on the salar though.
The trail to San Juan from Colcha K is partly pretty sandy and therefore a good training environment to get ready for the real Altiplano.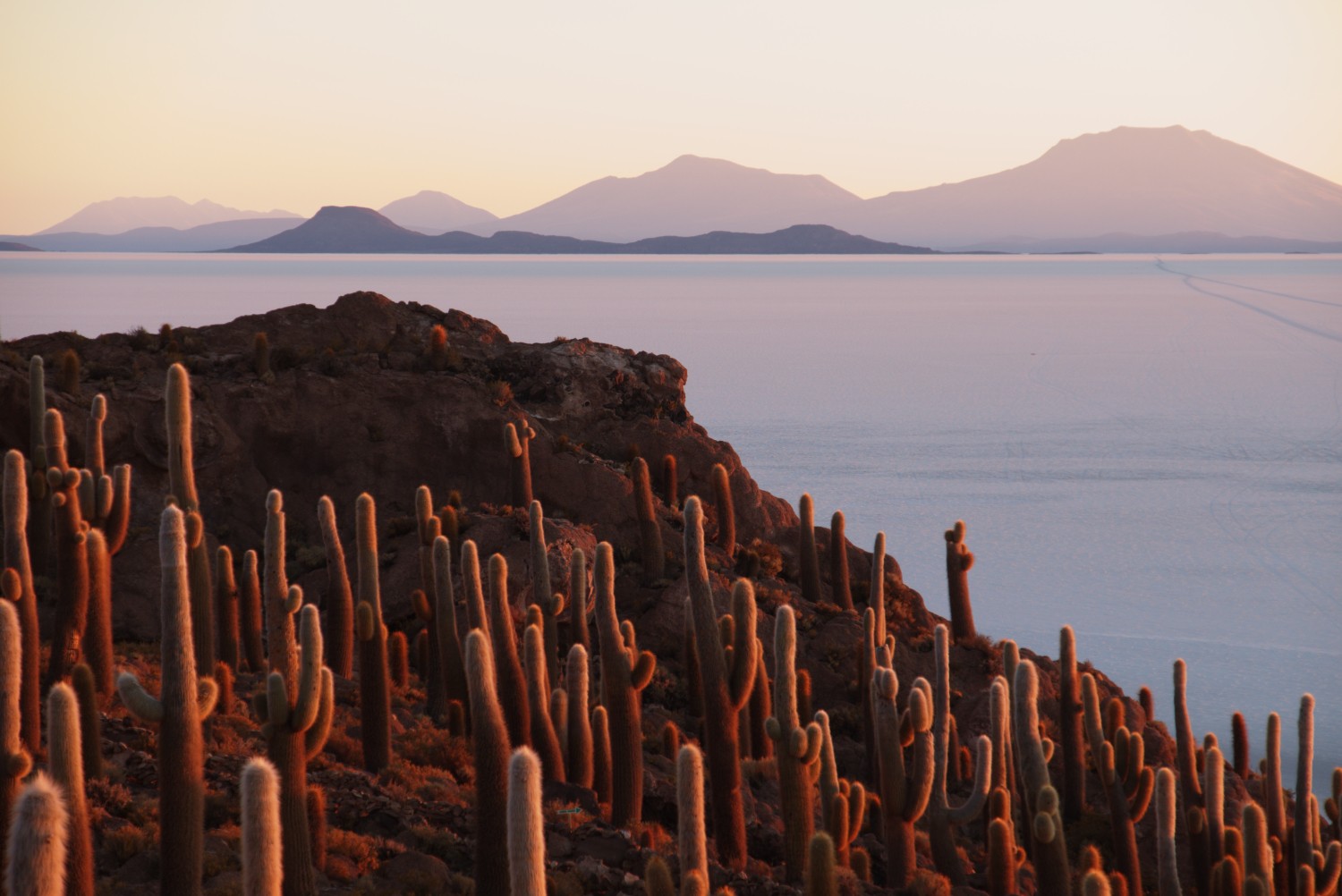 Further Tips for Section 1:
Cowboy camping in the salar without tent and the shining milky way above your head is a unique experience that you will never forget, however it comes along with a risk you should be aware of: all traffic rules in Bolivia, if they exist, do not exist in the salar. The salar is the place where people drive without rules. Even though there must be a lot of responsible drivers, I met some drunken and irresponsible ones along the way that could easily overlook a person sleeping in the salar. So what I did was primarily the following: a) try to team up with the bicycle folks, the bigger the group, the greater the chance you get seen early enough b) try to not sleep in the open flat land but try to camp on islands as much as possible and if you have to camp in the flat wide c) try to make notice of yourself with the stuff you have (reflecting clothes on a tripod could help for instance). The risk of irresponsible drivers is serious although talked down often by locals, drivers and agencies. The first night I camped in the salar, 5 tourists died in a car accident caused by an exploded tire during high speed. I was also interrogated by the locals/administration in the following days due to further accidents that happened during the nights (I haven't seen any of them in person so I couldn't be of any help)
Sunglasses are mission critical in the salar (and on the whole trip in general)
Distances can easily be underestimated in the salar. You will see mountains that are more than 100 km away and seem to be pretty close - so make use of your GPS.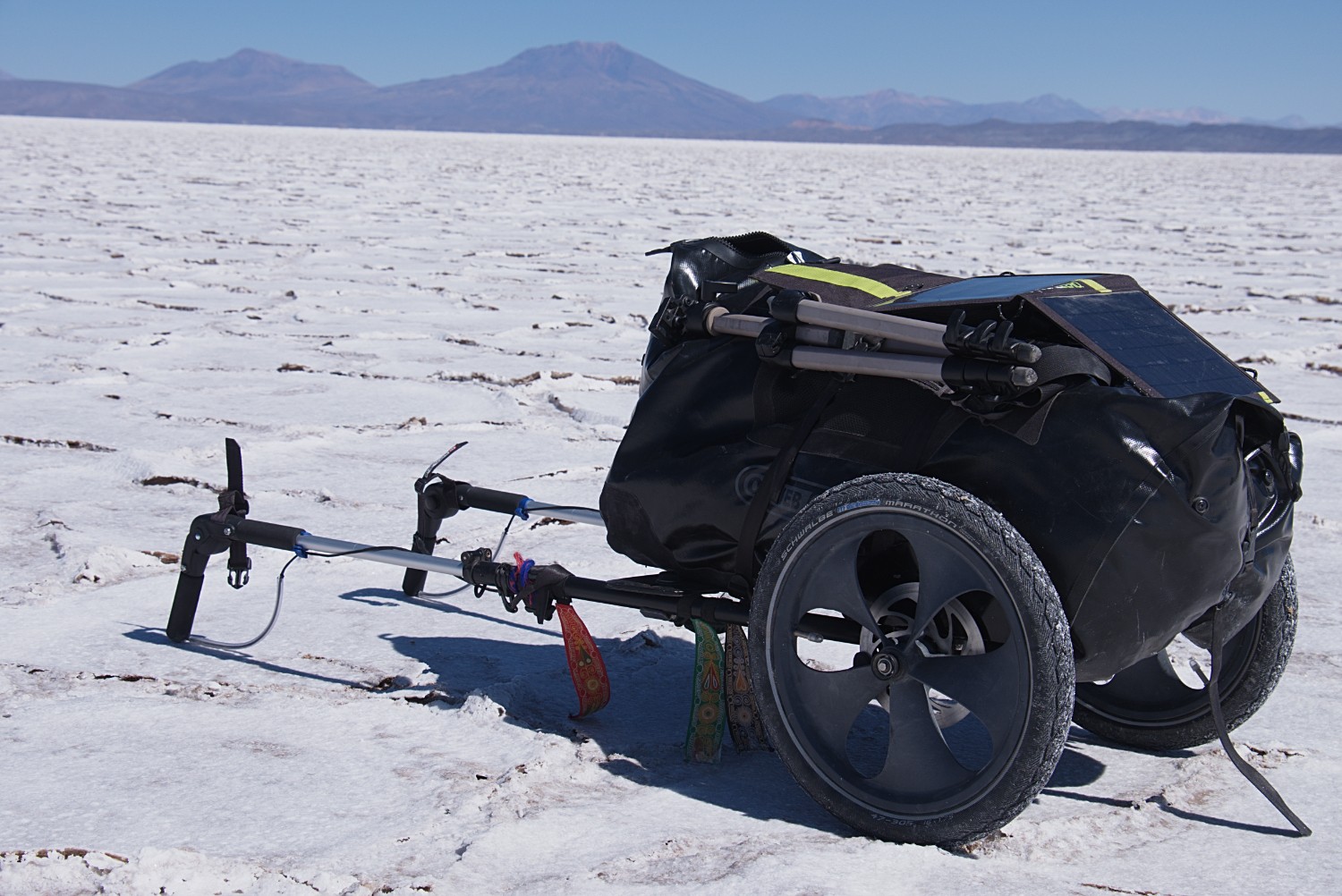 You can ask for a place to sleep on Isla Incahuasi (ask Alfredo, the grandfather of the Island, for a place to sleep and some food)
In case you arrive at the 1st of August on the island, you can be part of the Pachamama fest which is a very important part of the local culture on the Altiplano. The island is a super busy place during daytime, at night and at sunset you will most probably be on your own without any 4x4 tourists.
Don't forget to sign the guestbook for hiking/bicycle folks only (check with Alfredo).
Locals call the Salar de Uyuni originally Salar de Tunupa named after a local volcano.
In the village Aguaquiza you can find a hostel with nice and friendly owners called "Hostel Posada Nusta"
From Aguaquiza to Colcha K you can either cross over the mountain pass as I did or hike around (30 to 40 Kms more but no climbing). The pass will pay off with astonishing views over the salar and lonely landscape.
In Colcha K, two blocks from the square, you can find a hostel primarily used by Bolivians and owned by a nice old lady (4 USD per night - ask for direction at the main square)
San Juan has a local hospital with some very basic medical supplies, it will be the last one for the next hundreds of kilometers. Additionally, you will find several hostels there used primarily by 4x4 tourists.
Section 2: San Juan to Arbol del Piedra
Environment:
It's getting tougher - the real mountains will begin and I had also some of the coldest

nights (-21 C) during this section. And before I forget it: it can get windy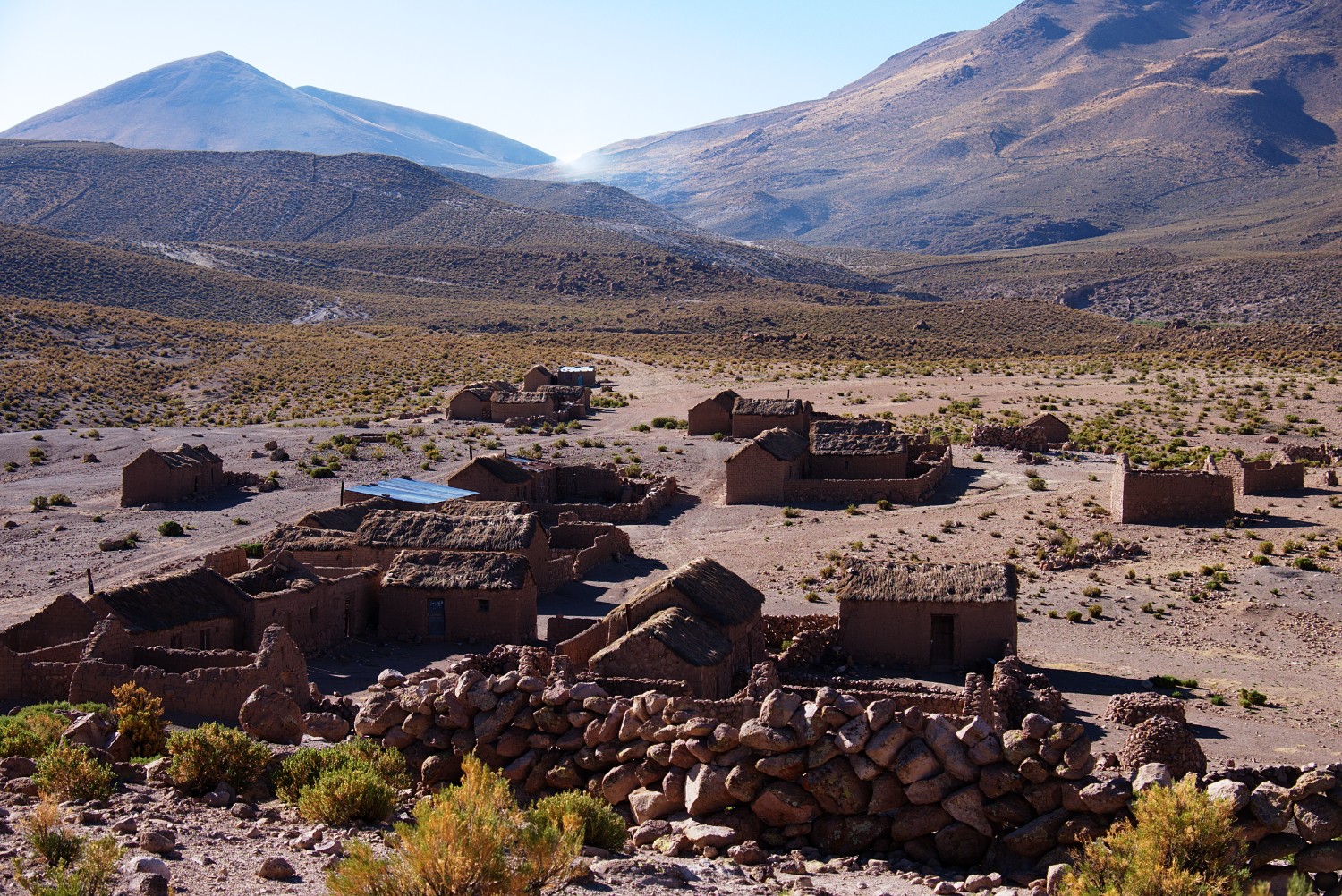 Additionally, you will become part of the sandy altitude and see the first lagoons with the most amazing one, according to my opinion, Laguna Hedionda.
Trail Conditions:
During the first day, the trail is perfectly made for the trailer (hard surface like in the salar) until you reach the first climb south of Chiguana.
The climb is challenging due to a sandy surface, so plan time and energy to get up to approx. 4300 m. The few kilometers on the Routa 701 can be done quickly due to perfect road conditions. Afterwards you need to go up and down until you reach Laguna Hedionda. From there, you have some challenging parts until the Taykal Hotel and then to Arbol de Piedra with some tough climbs and sandy parts as well. You will need to go up beyond 4600m so prepare your body to breath, breath, breath …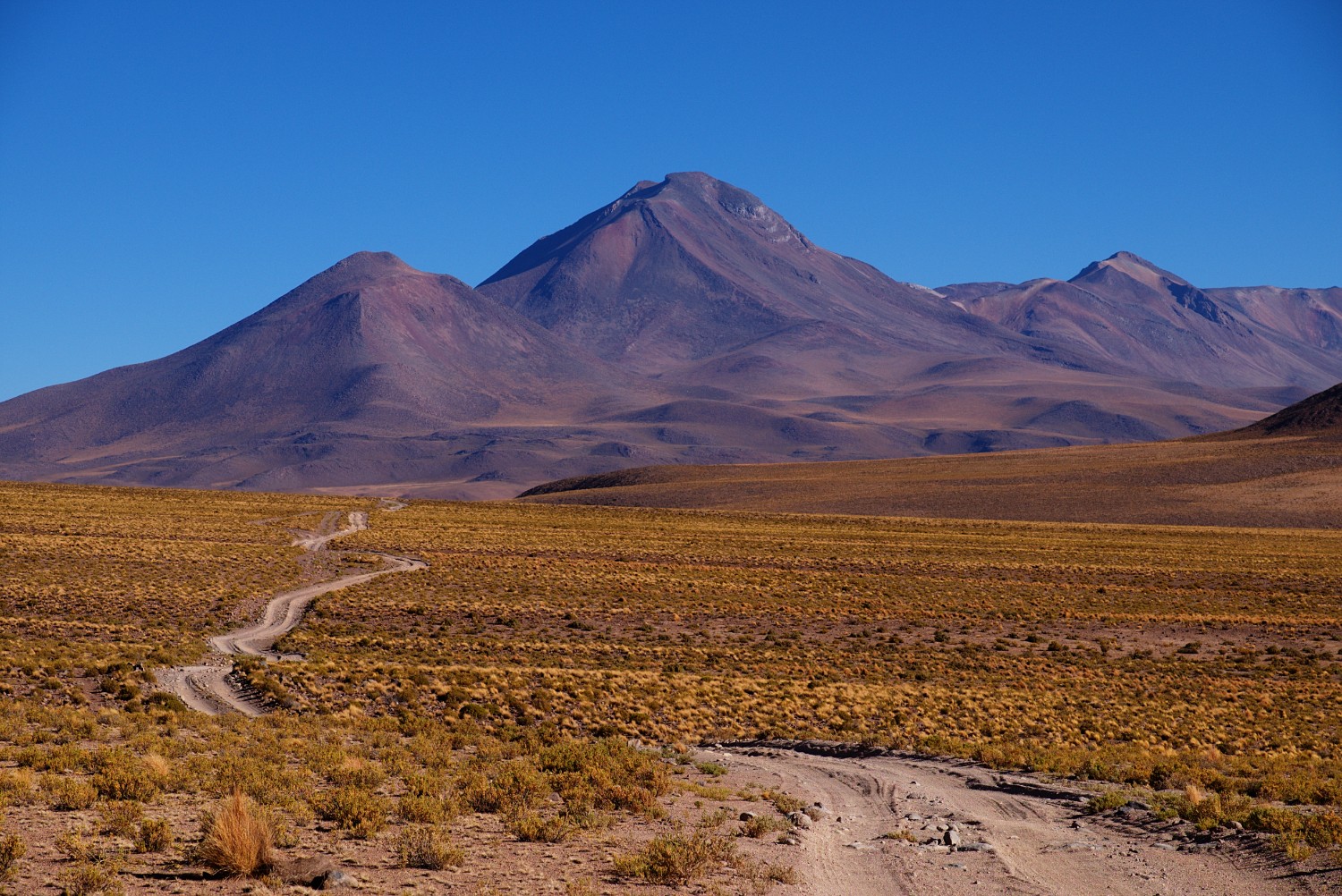 Depending on which 4x4 trail you take, you will be able to progress faster or slower. This can really end up in a gambling game and has heavy impact on your pace.
Further Tips for Section 2:
The military outpost in Chiguana can help you out with water and is located roughly 30 Km away from San Juan. Ask the commander in case you search for a place to sleep - these are helpful people out there.
There is a challenging alternative available which I didn't take: gear up with water in San Juan and head south to Copacabana (-21.23818, -67.79568) which is approx. 40 km air distance away. From there, after resupplying with water, you can make it in three days roughly to Laguna Hedionda. I would expect that this option is less populated than the route I took.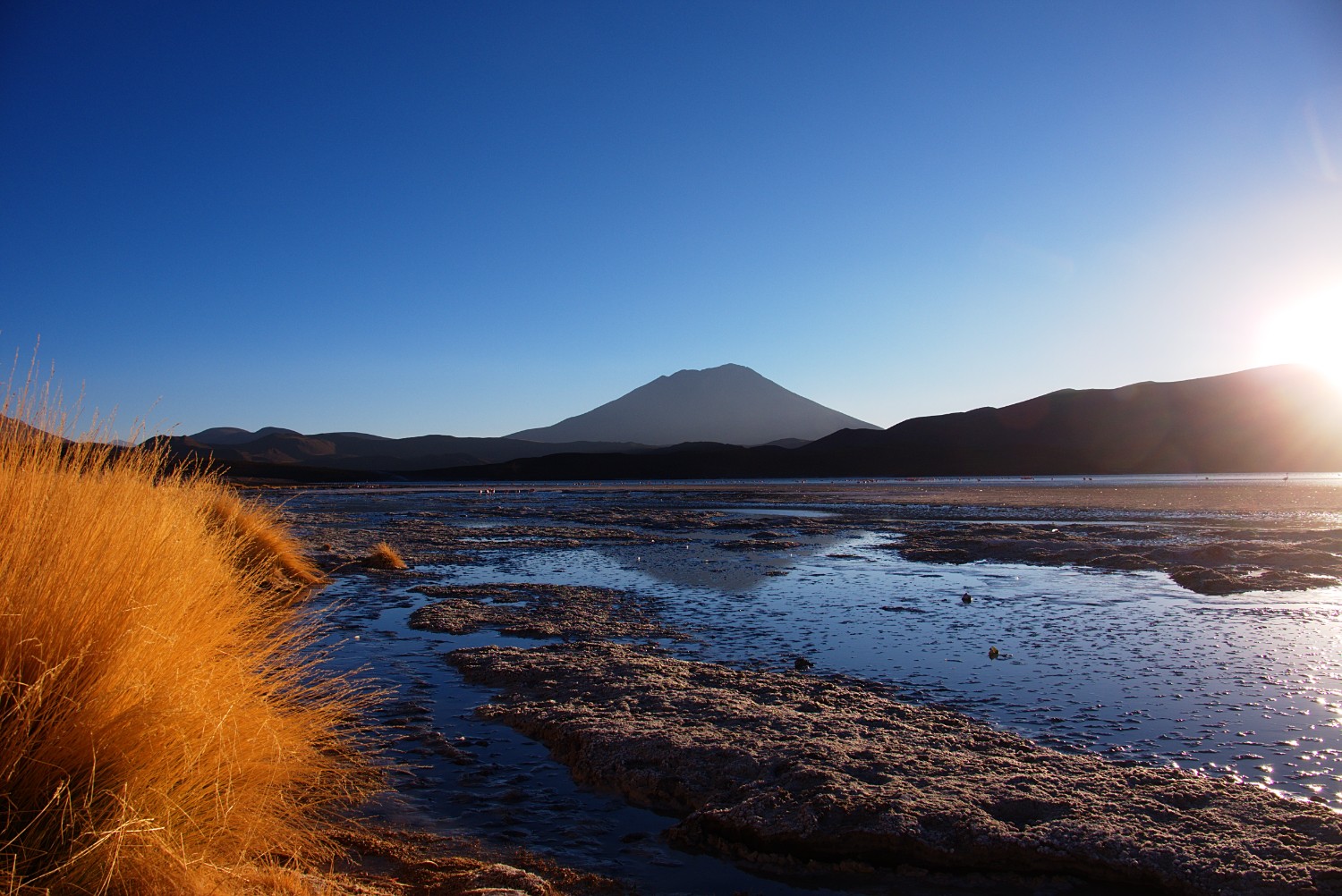 I realized on this section that basically my shoes have shrunk due to the salt in the salar. I had serious issues in the morning to get my feet in, especially when I had freezing conditions as well.
There is no official place to resupply with water between Chiguana and the Eco Hotel at the Laguna Hedionda
There is satellite Internet available for little money at the Laguna Hedionda / Eco Hotel (Welcome to the 21st century!). They also have a place to sleep (50 Bol / night) and you can resupply with water / Cookies.
The Taykal Hotel provides a possibility to resupply with water
There is one guard at the Arbol del Piedra but I'm not sure if you can resupply with water there. However, you are allowed to camp between the rocks a little bit away from the Arbol de Piedra
The ruins approx. 10 km before the Arbol are full of human waste but can be used as an emergency shelter in case of heavy winds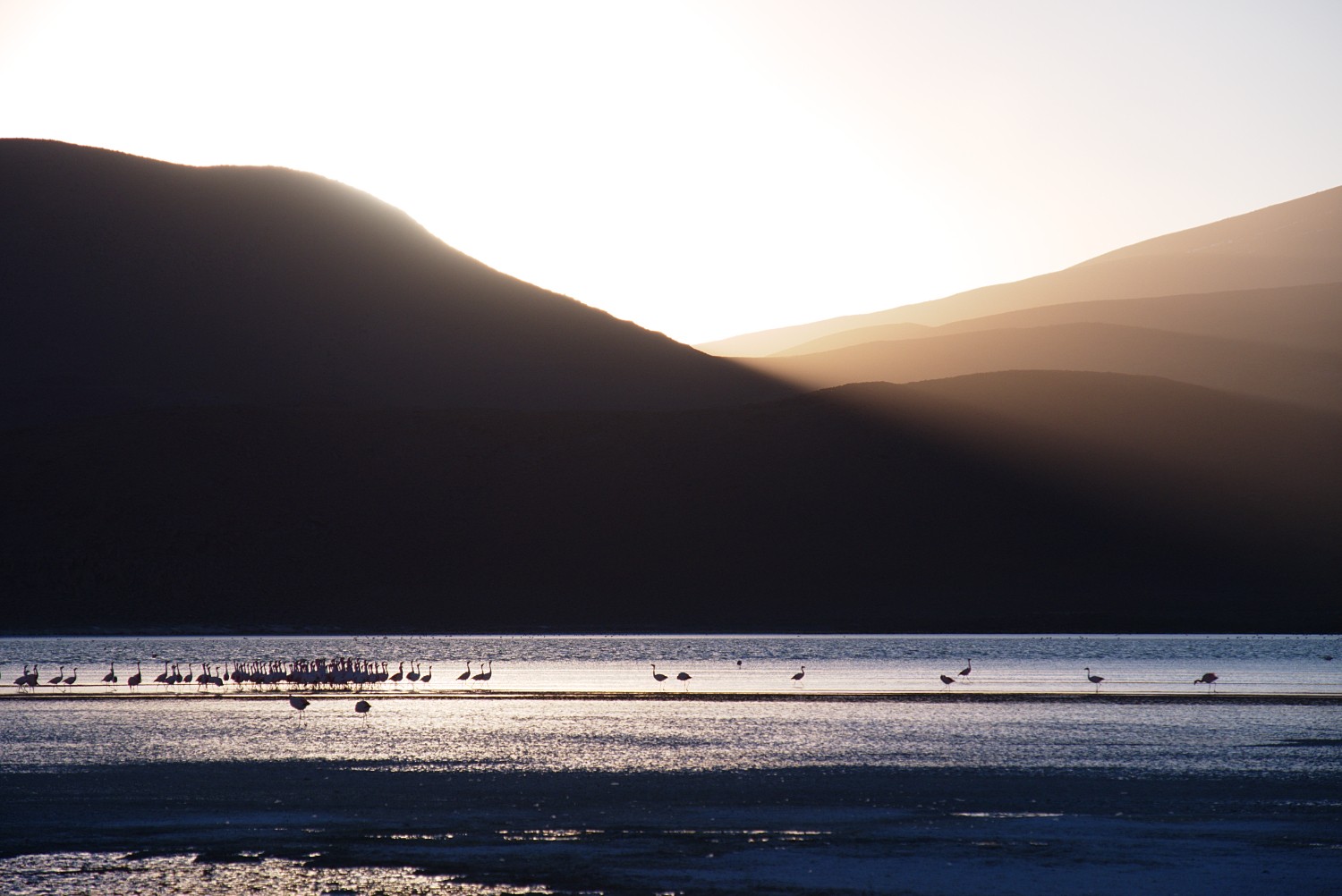 Section 3: Arbol del Piedra to Chile Border
Environment:
In this section you will come across some of the highlights of the Altiplano such as the lagunes Laguna Colorada, Laguna Blanca and Laguna Verde. Sol de Manana, the highest thermal field on 4800m (roughly the height of the Mount Blanc), is clearly my favorite.
Towards the end of this section the traffic of 4x4 will begin to take overhand and become a pain.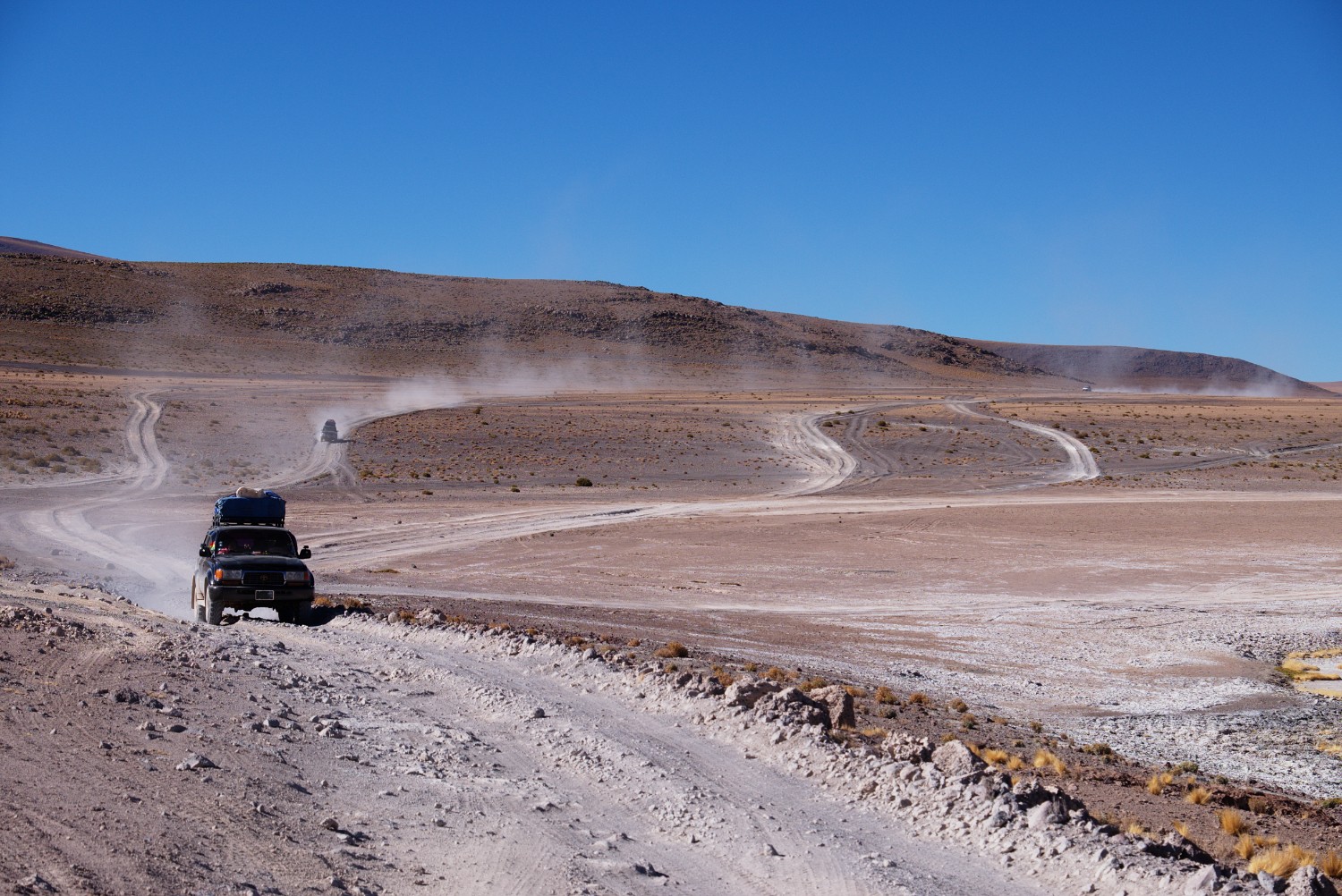 Trail Conditions:
The toughest day was the climb up to Sol de Manana which took me a complete day from the refugio (-22.262581, -67.816350). The trail basically only climbs. Some bicycle folks confirmed me later that they share the same opinion: it's the toughest day of the whole Altiplano trip although the trail conditions can be considered as "medium" and not super bad.
The day before was easy downhill from the Arbol del Piedra but will also cost you one day under good trail conditions.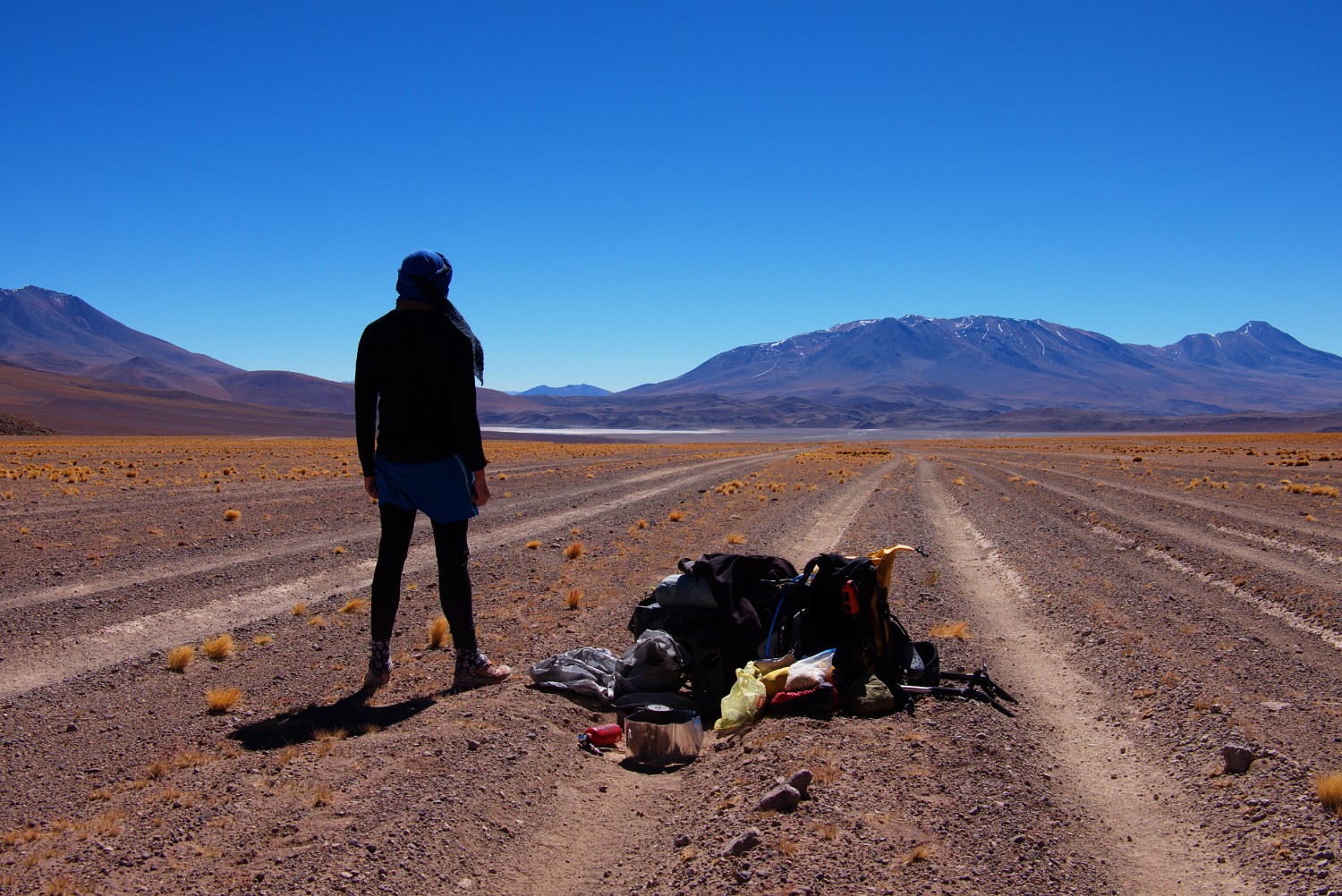 From the Sol de Manana on, you don't have to worry too much about the trail conditions since the mine "Apacheta" (-22.44296, -67.80454) makes sure that the trail remains in good conditions. Even through the Dali desert part, the surface was excellent.
Further Tips for Section 3:
At the Laguna Colorada, you need to pay the entrance fee to the national park "Reserva Nacional de Fauna Andina Eduardo Avaroa". Don't worry if you intend to stay more than 3 days in the park, the guards were super friendly and told me that I don't get any issues with overstaying in case I'm on foot.
At the refugio at Laguna Colorada (not at the Laguna itself but more uphill: (-22.262581, -67.816350) you will find nice people who will let you sleep on the floor for free, you can also resupply with water and they have some bigger kiosks as well which sell cookies, some food and drinks.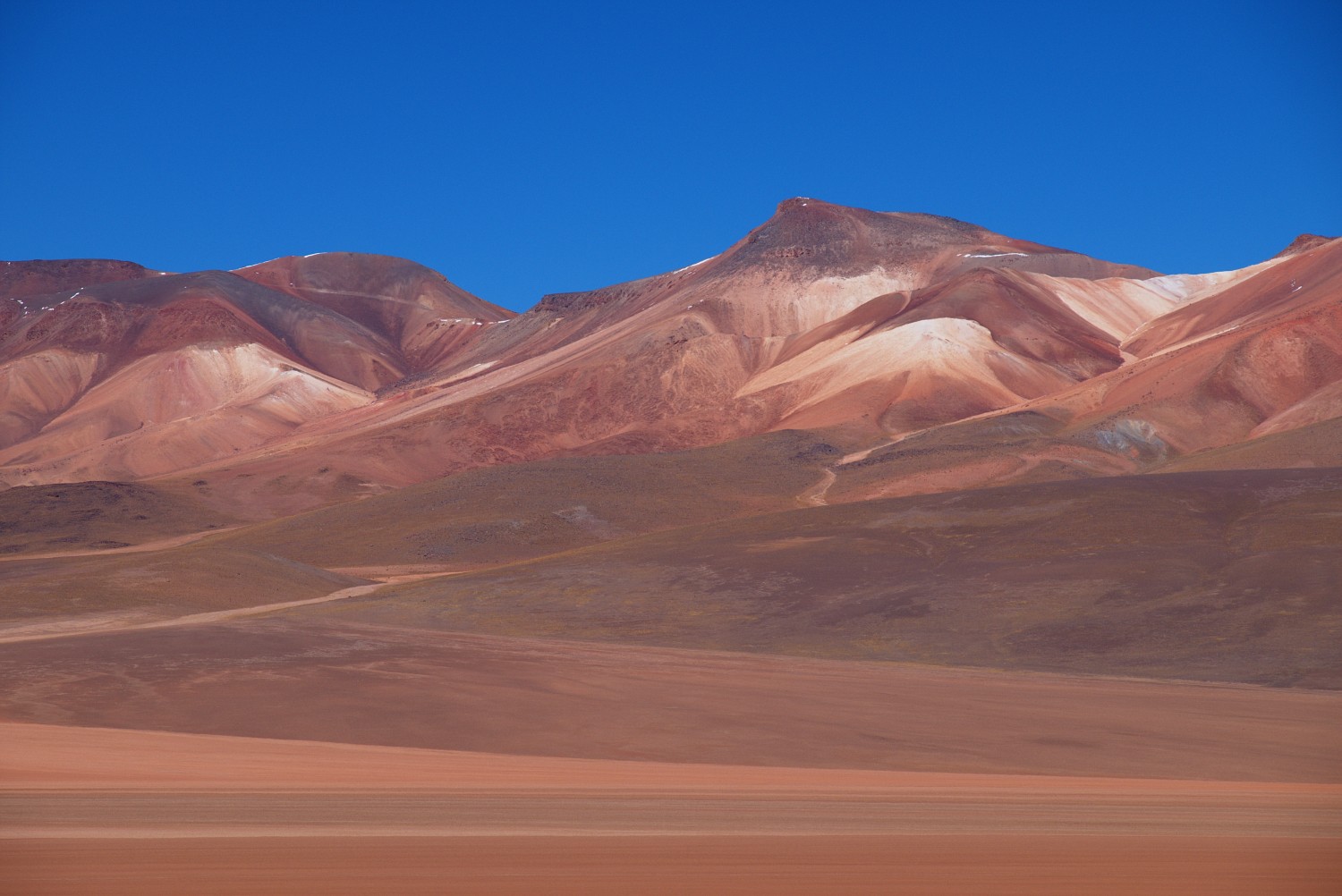 Sleeping close to the thermal field at Sol de Manana is possible - there are some ruins which can be used as shelter (human waste inside, take the place outside behind the stone wall). You will have the complete astonishing landscape for you own during the night. 4x4 folks will arrive in the morning - but be prepared to sleep on 4800m altitude and hence this could be a rough night in case your body is not used to it. Additionally, I had around -15 C during the night.
The hot thermal bath in Chalviri (-22.53671, -67.64869) is a blessing for your body, but it's also a crowded place as well (see more lonely option below)
The Dali Desert is ok for taking 2-3 fotos but in total it was an overhyped disappointment in case you have visited the White Desert in Egypt already.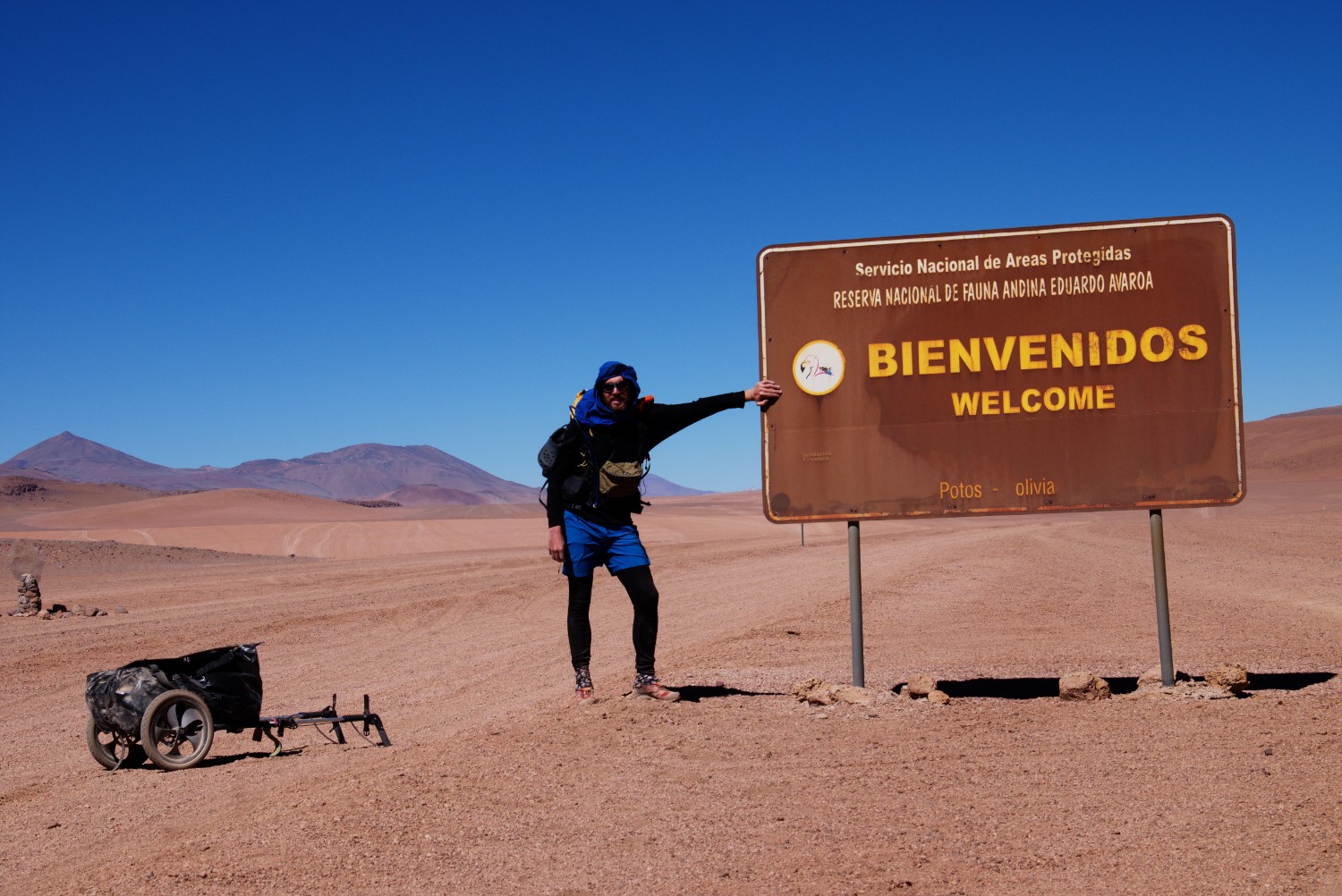 There is a natural thermal pool at the Laguna Blanca (-22.78263, -67.80266) - I got there from Chalviri in one day via the Paso del Condor (-22.6679, -67.75479). This was a tough day with 36km, and a climb up to 4750m, but you will have the thermal pool for yourself and you will also find some very basic wind shelter right besides the pool. I haven't seen anything else useful for sleeping in the area besides this place.
At the border to Chile, most of the 4x4 tourists need to switch vehicles (BOL to CL vehicles and vice versa) so you can ask for a hitch there. I didn't have any luck (I guess I was looking too horrible and smelling too bad , so I had to walk the 5 km to the main road (-22.92061, -67.80675) and got a hitch there to San Pedro (you can alternatively go up to the Paso de Jama towards Argentina)
Some short hints in regards to San Pedro de Atacama:

it's touristic, yes, but this brings along the benefits of having everything you want there after spending weeks in the desert (ATM, good food, hot showers, etc.)
You can get to Santiago in roughly 24 hours via bus as I did or take a flight for some more money
A fast non-touristic way up to Uyuni in Bolivia costs around 80.000 CLP with an agency located close to the main square in San Pedro. This is a transport without sightseeing. If you want to go back to Laguna Colorada, as I intended to do first, it costs 40.000 CLP which is a pretty fair price.
In case you want to rock the Socompa Pass, get a bus ticket to the town of Peine (-23.68015, -68.07342) for 5000 CLP at the bus station in case you want to skip the asphalt road.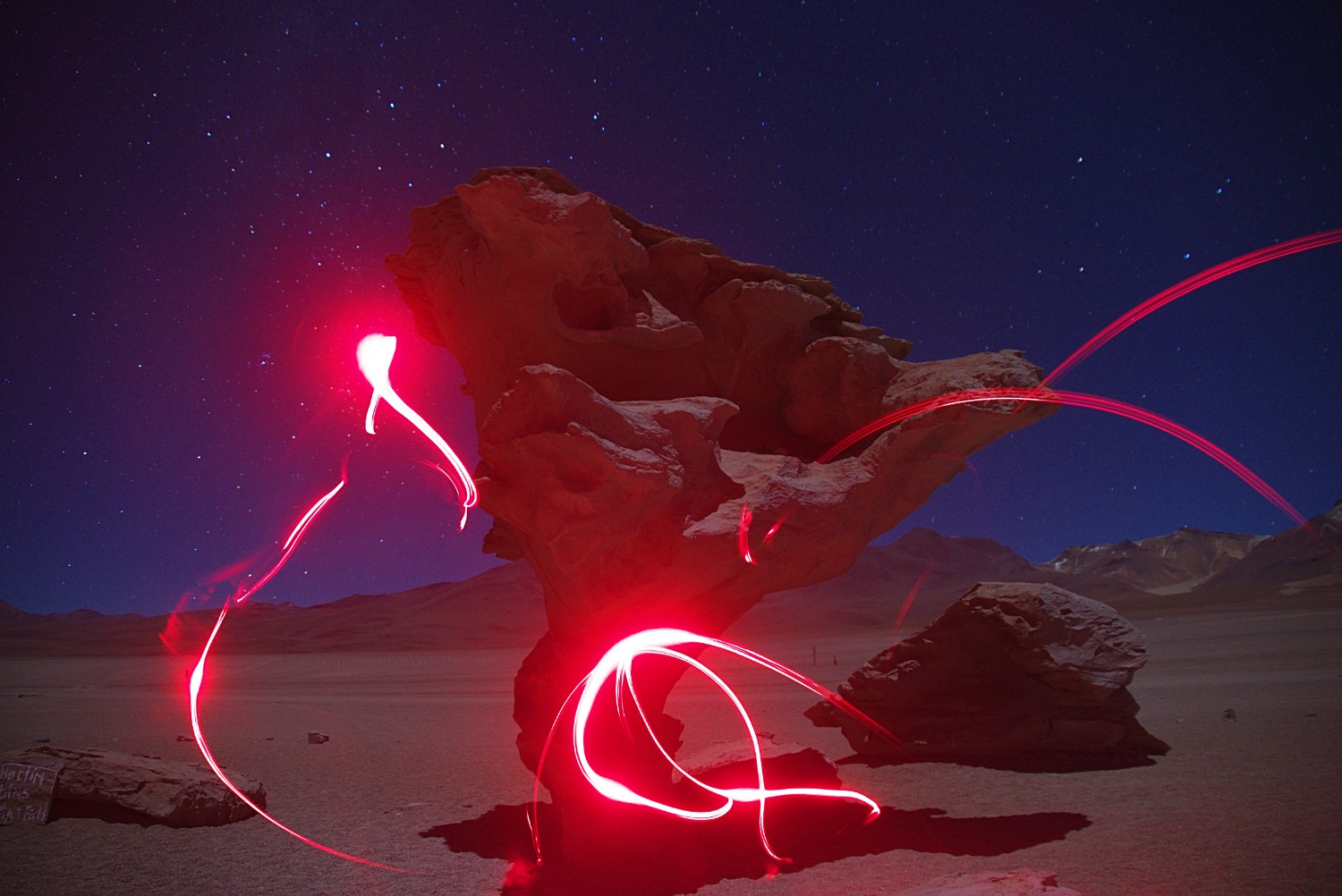 Proposal for Alternative Trip on the Altiplano
Before heading out to cross the Andes to Argentina via the Socompa Pass, I also had the following less populated alternative in mind:
My intention was to head back to Laguna Colorada via the transfer company located in San Pedro (40.000 CLP) after resupplying with food for 10 days in San Pedro. Water can be gathered at the refugio at Laguna Colorada.
The plan was to take the road on the eastern coast of the Laguna and head north before climbing up to the pass in the east with roughly 4900m altitude south of volcano Cerro Torque (-22.12349, -67.54137). In a few days I wanted to reach the village of Quetena Chico where you can resupply. Locals told me that the trail is in good conditions but basically without any traffic. The village can be used as a basecamp for surrounding or climbing the Uturuncu volcano. The surround will probably take 3 days by foot without any possibility to resupply with water, but it must be an interesting, lonely trip with some nice lagunas on the way. Afterwards, it's possible to head south towards Chalviri crossing the Salar de Chalviri and passing by Laguna Kollpa.
Main Challenges on the Trail
Multiple cyclists (here, here, here and here) have already expressed their concerns and have shared their experiences with the world about crossing the Altiplano in South Bolivia. These venturous fellows deserve plenty of respect and I'm still grateful for the baseline information their reports provided since there are basically no detailed information available for hikers in this region. Below you can find my personal experiences with the main challenges as a hiker - not as a cyclist - with the Altiplano thru-hike.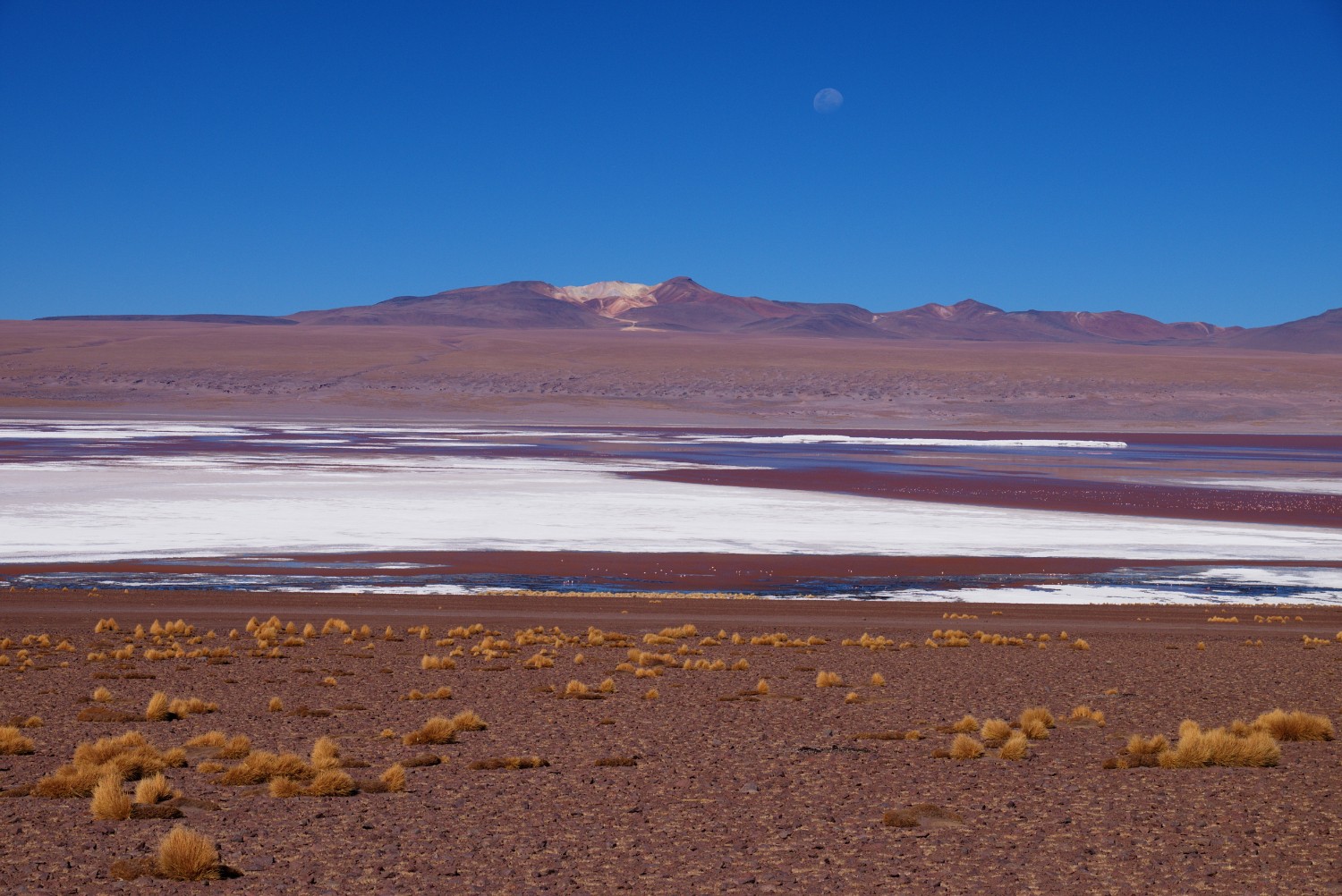 No.1: There are hardly other hikers doing this trip
The North and South Lipez provinces in the department of Potosi in south Bolivia are basically not visited by hikers except for some crazy folks that dared to enter it and did some parts of my route as well (check out more information mostly in French here: 1, 2, 3, 4). Additionally, I heard rumors around hiking individuals on the road but I didn't meet any other hikers unfortunately (please reach out to synch in case you hiked in the region).
Due to these facts, I used the reports linked above from the cycling community as an information baseline. They are extremely helpful, but keep in mind that these folks have two wheels - you "only" have two feet. I enjoyed synching and chatting with the few cycling buddies I met during the trip, but only until the mountain descends and these folks are able to cover a distance of 60-80 km in only one day

. Don't even dream about this by foot

. So what does this mean for you? Yes, take their hints, advise, tips, GPS coordinates, cookies (if any) and good wishes, but translate them to your situation. If these folks need 2 days to cover a distance of 120 km, you will need 4 days at least for doing the same in most of the cases.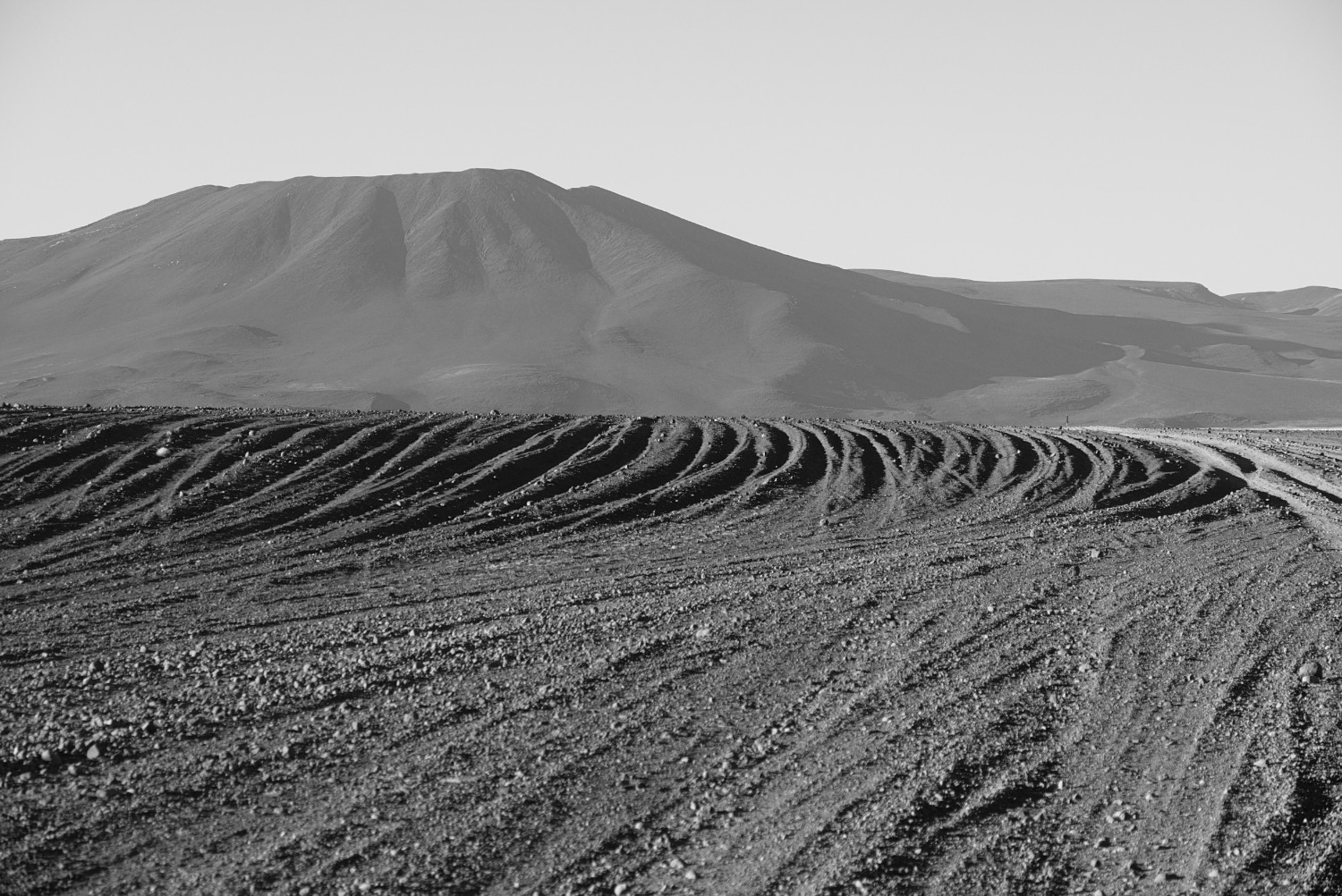 No.2: Altitude
Your body can get used to pain, to the constant cover by dust, to heat, to cold, to swollen feet, but it will never be able to adjust completely to the altitude. You will start slowly in the salar which is around 3600m. Give your body some days before you go hard on him. When I did my first 50 km in one day in the salar, I was already acclimated well due to my previous time on the Routa 40 in Argentina. I didn't feel the 3600m, I also didn't feel 4000m heavily, but everything beyond I felt. Even if you don't actually suffer from the altitude, the constant lack of oxygen will slow your body down. It will act like a wheel with constant breaks pulled. So this is something you need to consider especially in the planning phase of the different sections.
After weeks on the Altiplano I didn't care anymore on which height I was basically acting. Everything was somehow around 4000-5000m anyway and the longer you stay at this height, the less it will be a problem. It even made it possible for me to sleep on roughly 4800m without any bigger issues.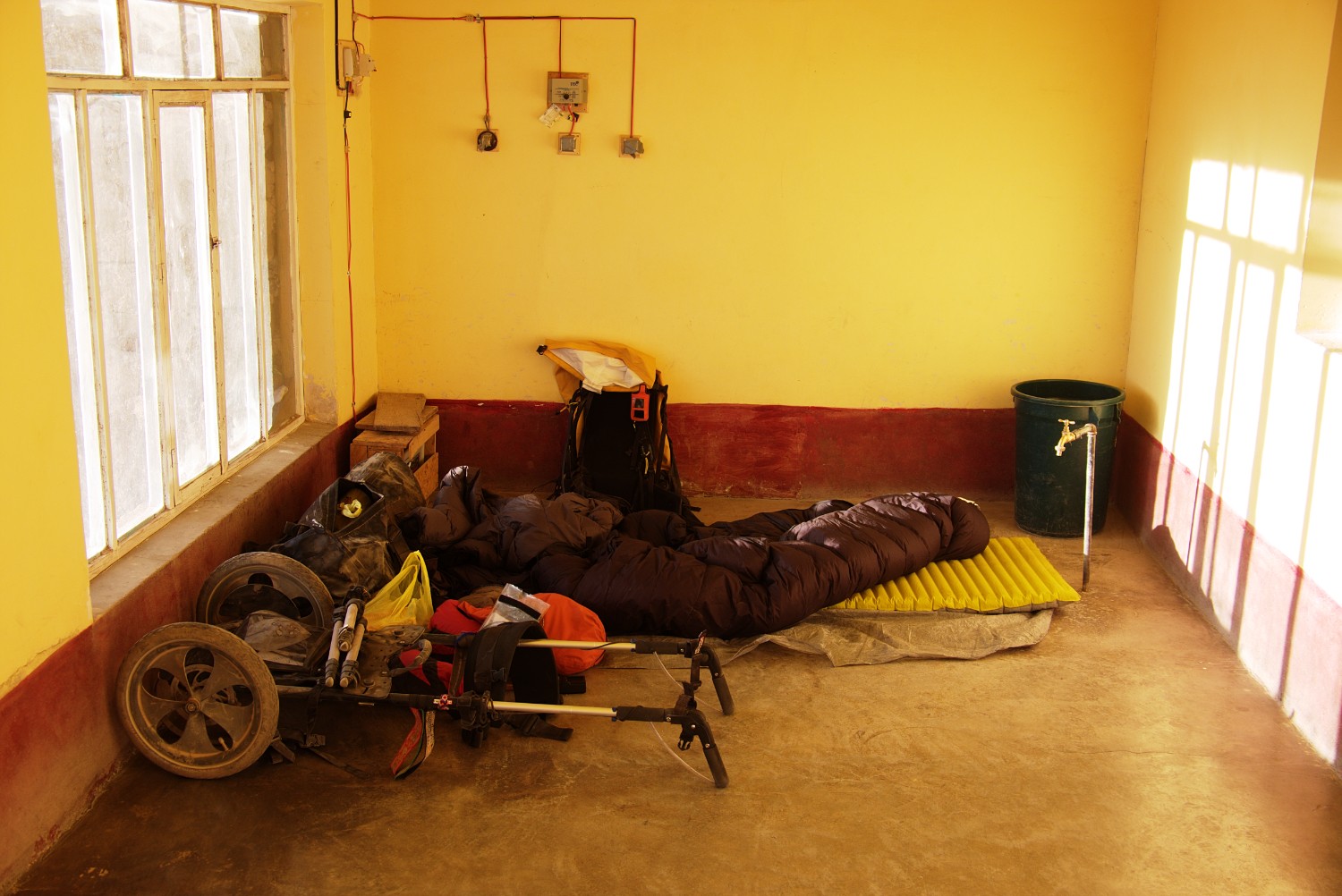 Nevertheless, the beginning is the critical stage: I saw people in 4x4 vehicles heavily suffering from the altitude due to the lack of acclimatization. This challenge should not be underestimated and can have serious impact on your health. There are other resources on the web that better describe the problem of AMS (Acute Mountain Sickness).
No.3: Sun
If you visit the Altiplano in winter (July/August), be assured that the sun will be the there as well. If I recall correctly, I had the first clouds after weeks when I approached the border to Chile in the south. So I had blue sky day in and day out. Awesome, yes, on one hand, but a pain on the other.
The problem for the hiking folks is that there is hardly any shadow you will get from mother nature: no trees, not too many huge rocks to hide behind etc. You will be exposed to the sun from 7am in the morning when the sun comes up until around 7pm in the evening when it sets. Shadow, if any, needs to be created by yourself. This is different from the folks yelling at you out of a 4x4.
I recommend not to rely too much on sunblocker but instead make use of a long and broad scarf like the Tuareg use. This helps you to protect your complete head including your neck and the upper part of your body if needed.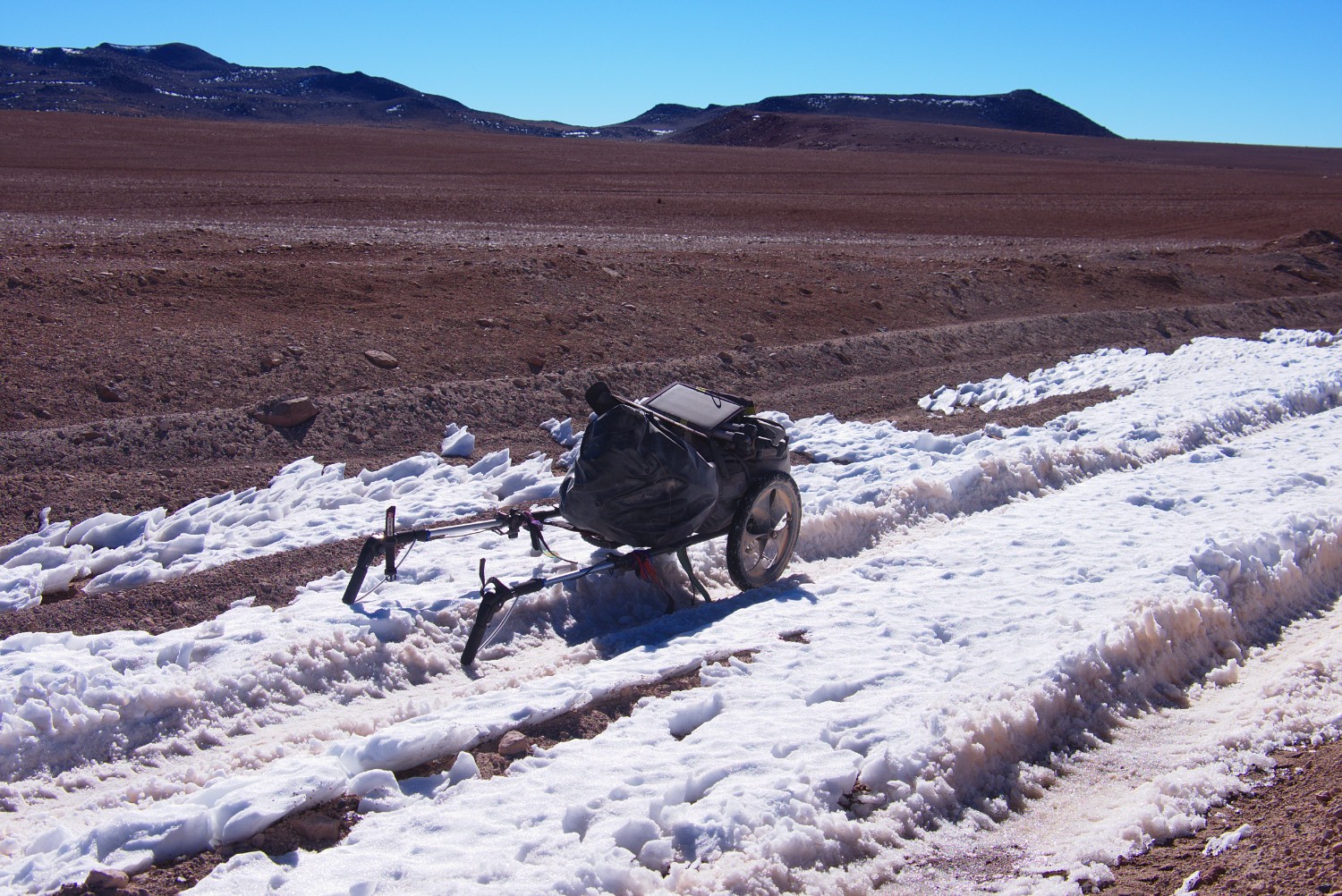 Sunblocker can run out and additionally, it will end up in an evil mess on your skin with all the sand and dust that inevitably will come up.
Finally, don't forget to consider that you are hiking on high altitude, compared to sea level. This means, that the intensity of the sun is also higher and will create more damage on your skin. So sun protection is priority but easy to solve with the scarf solution I mentioned above. I used this method throughout the complete trip down to Argentina and also on some of my previous desert hiking trips.
The positive aspect about the sun is: there is plenty of free energy for your solar panel.
No.4: Wind
Just to make it short: the Altiplano was not that bad in terms of winds. I thought it would be worse. What I underestimated were the winds on Paso Socompa. I have experience with the famous Patagonian Winds in the South on past trips in Patagonia, but the ones on Paso Socompa were the worst I experienced so far. They were mixed with sand and even bad as tailwinds, not to mention headwinds. Locals told me that in winter, a phenomenon called "Viento Blanco" comes up from time to time that brings basically an arctic blizzard including whiteouts to the Altiplano/Puna representing a dangerous threat to the life of humans, even in cars. This Viento Blanco was also the one which killed the "aleman muerto" - read more about this in my upcoming Paso Socompa report.
As other bikers reported, normally the wind begins after midday and stops around 8pm. This rule pretty much worked out on the complete Altiplano section for me.
No.5: Lack of Water
So this is supposed to be the 1-Million-Dollar Challenge - but in fact it isn't if you stick to some rules. (This situation is completely different on the Socompa Pass).
Yes, there is a general lack of drinking water on the Altiplano as expected for an arid desert area. So you need to manage your water usage especially as a hiker. But the good news is, you will be able to handle this situation especially if you use a trailer as I did.
With the support of my hiking trailer (Benpacker) I was not depending on the frequent resupply with water and more flexible in terms of choosing the trail. To be honest, I didn't bother much about water on the Altiplano section - I loaded up to 20 liters on my trailer during some sections which was giving me freedom for several days. The whole pain started on the Socompa section.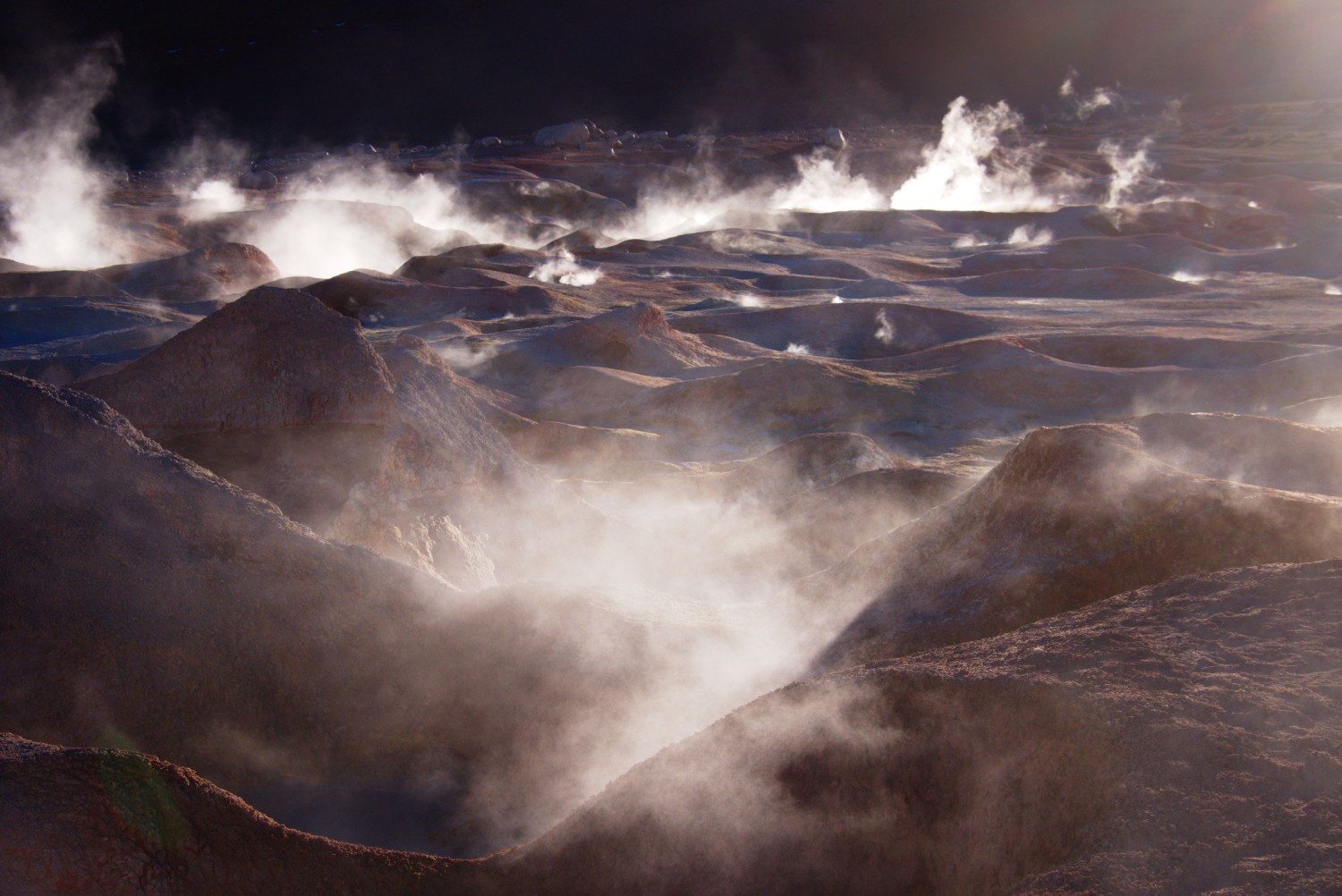 These two French colleagues didn't bring along a hiking trailer on their trip but covered the distances between the different refugios mostly in 1 or 2 days. So they dragged the water in their backpacks between two refugios. This demonstrates that if a) you are in good shape, b) able to cover longer distances in a fierce desert environment like the Altiplano and, most importantly, c) stick to a given route, you will be able to make it.
However, you will not be able to make any extra trips or extensions beyond the prepared Laguna Route which is also the one that most of the tourist 4x4 will take. So in worst case scenarios, you could ask potentially some tourists crossing by with their 4x4.
No.6: Cold
Cold is probably one of the most underestimated threats on the Altiplano. I brought a down sleeping bag capable to handle -20 degrees of Celsius. Additionally, I brought down hoodie, gloves, down trousers and down boots and I have to admit it was exactly the right choice. It was no overkill but a welcoming offer after a hard day on the road. I met a few bicycle fellows that were freezing at night and just wanted to push through asap. The joy was gone, they just suffered. But they could do it - getting from San Juan to San Pedro in basically 10 days. By foot, this is much more complicated and you will be much longer exposed to the cruelty of mother nature than the guys on the bike simply because you are slower.
Also be aware that your level of exhaustion is bigger each day compared to the folks on the bike. You don't have two wheels you can use when the road leads downhill. You have to walk each and every meter with your own feet, moved by your own muscles. This means, your body will expect more energy in return which also has an impact on your level of freezing at night. Not satisfying the expectations of your body in the evening most probably leads to freezing at night.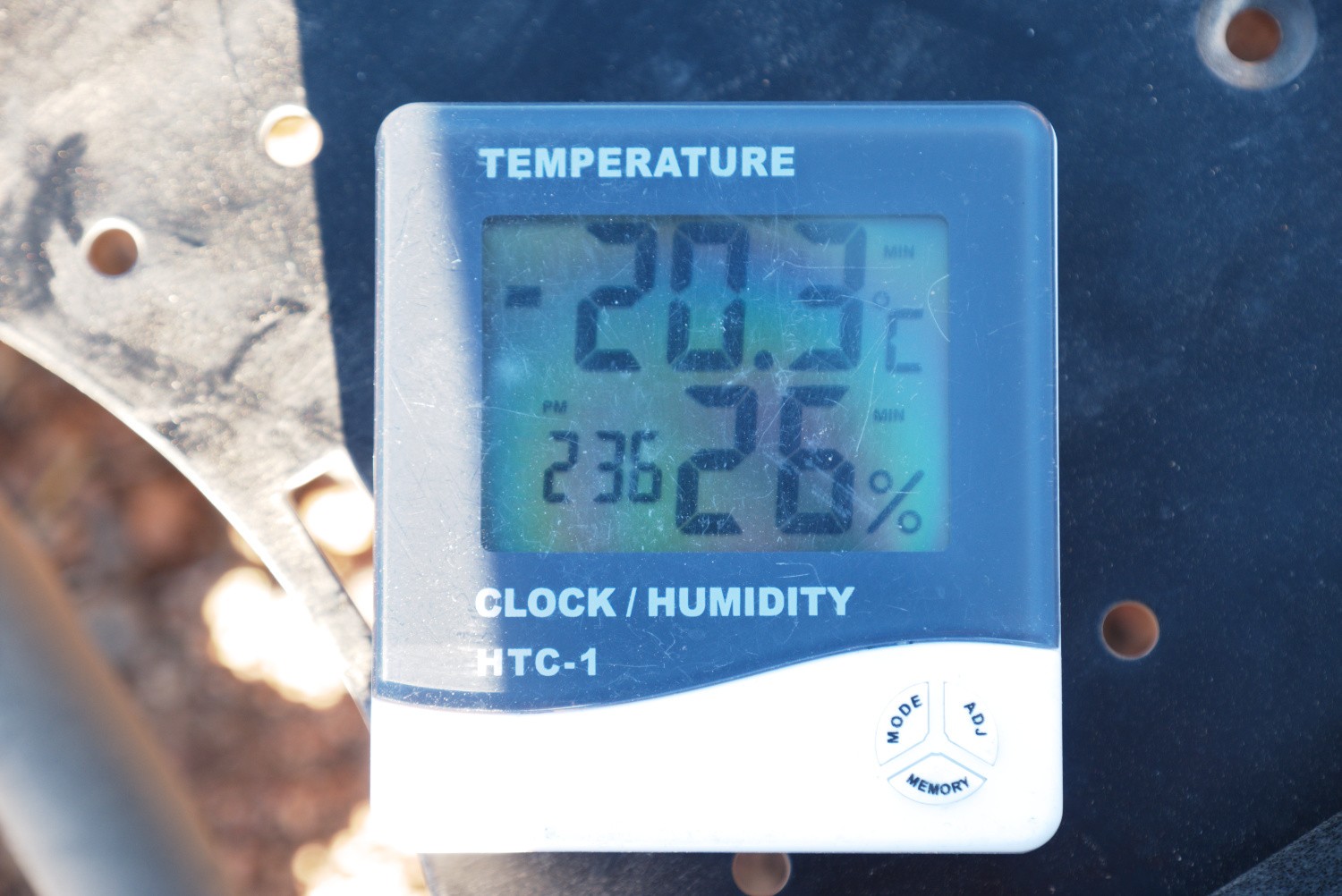 Last but not least, the Diurnal Temperature Variation needs to be considered as well which describes basically the temperature difference during one day. Be aware that on the Altiplano you can have +20 C during the day in the sunshine and then -20 C during the night. This makes a difference of 40 degrees in total which your body needs to "understand".
So take the cold into consideration during your planning stage, but be assured that not every night will be around -20 C.
For reference purposes: I didn't use a tent during my two months on the Altiplano. I brought a 500g ZPACKs tent, but only used the bathtub floor in combination with an inflated termarest mat for sleeping on the ground. This setup worked perfectly for me and I would substitute the tent most probably with a bivy bag the next time. However, be ready to face potential snow storms on the Altiplano - therefore, I wouldn't go without tent/bivy bag.
No.7: Isolation
You will meet people on the Altiplano, most probably in the end more you intended to meet. This place is famous amongst South America travelers. 99% of these folks will yell at you out of the comfort of their rented or hired 4x4 vehicle. Then there are 0,9% folks on the bicycle that you will meet. This is the species closest to you, although both of you are different when it comes to several aspects as explained above already. Also, biking folks will bring their own challenges and problems. They are freezing at night like you do, they have little food like you do and they want to get through this like you do. And the 0,1% is you, the dinosaur, the crazy fellow that has the balls to hike the Altiplano.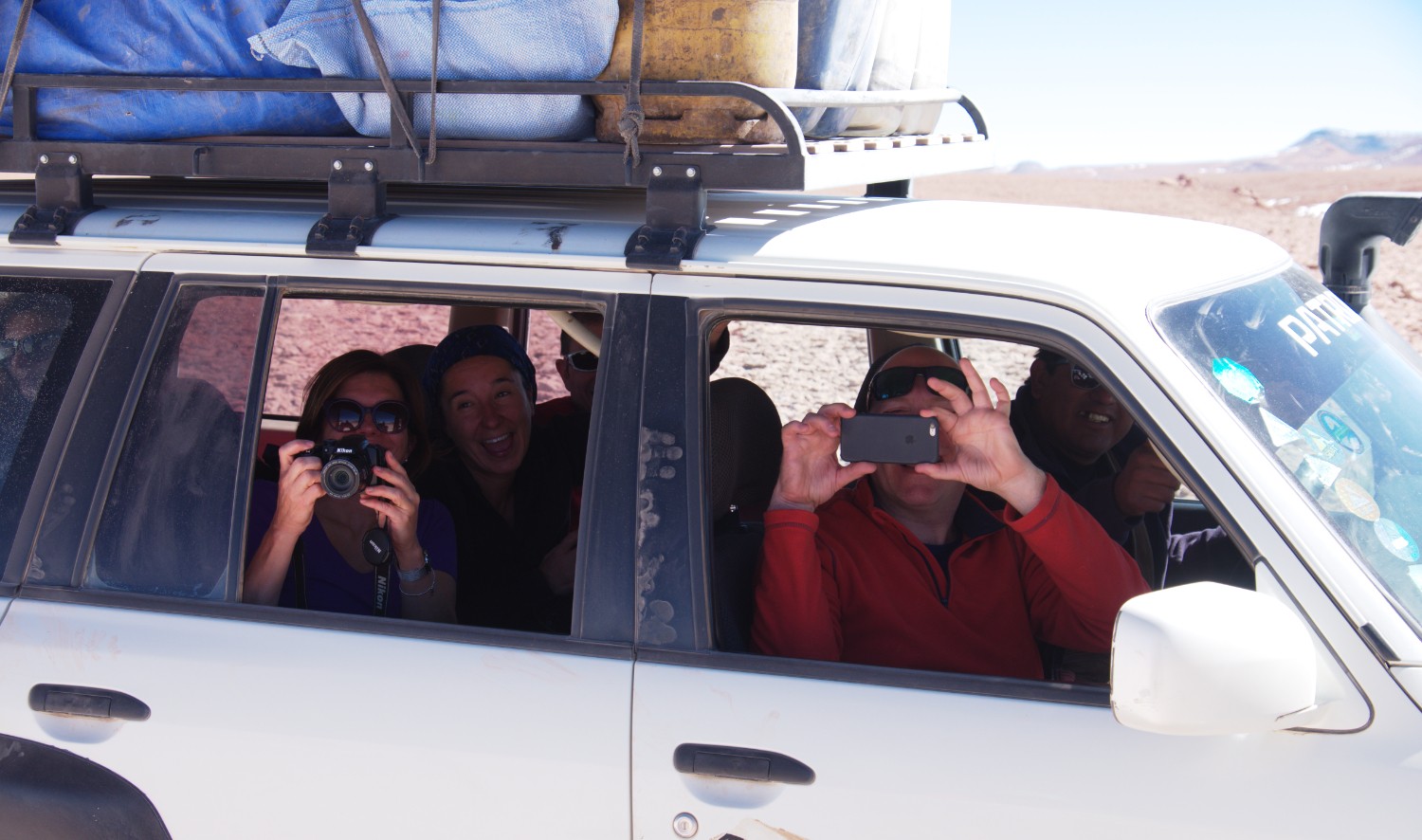 The 4x4 tourists and jeep drivers will consider you as "the animal in the Zoo" - check out a perfect description here. Quote:
"Now on our left we have a travelling cyclist, known to roam these parts during their seasonal migration from Alaska. It looks like we've got a solitary male here and by the state of him I'd say he's been on the road a while. Best not to provoke him too much, they're an unpredictable bunch, but we generally find offering them a bit of food settles them down." - "But what do we feed them??" - "Oh they'll eat anything, this one probably hasn't seen a good meal in days …"
You will trade a foto of yourself against chocolate, cookies, CocaCola (if you are lucky!) or water if needed. You will get the once-in-a-lifetime experience of learning how monkeys in zoos must feel like day in and day out - except for the fact that you are the monkey.
As a conclusion, you will meet people on this trip if you want to - but you should never rely your plans on others.
No.8: Lack of Air Humidity
Finally, what I would consider more like "unpleasant circumstances", is the lack of humidity in the air that surrounds you. This lack of humidity lets your skin get extremely dry, lets wounds come up quickly, lets your nails break, lets your lips look like rotten, lets you feel horrible if you touch any fine material such as the silk inlet of your sleeping bag. In the beginning it will not be that bad, but after weeks and months in this dry environment, parts of your body will suffer, especially your hands and your feet.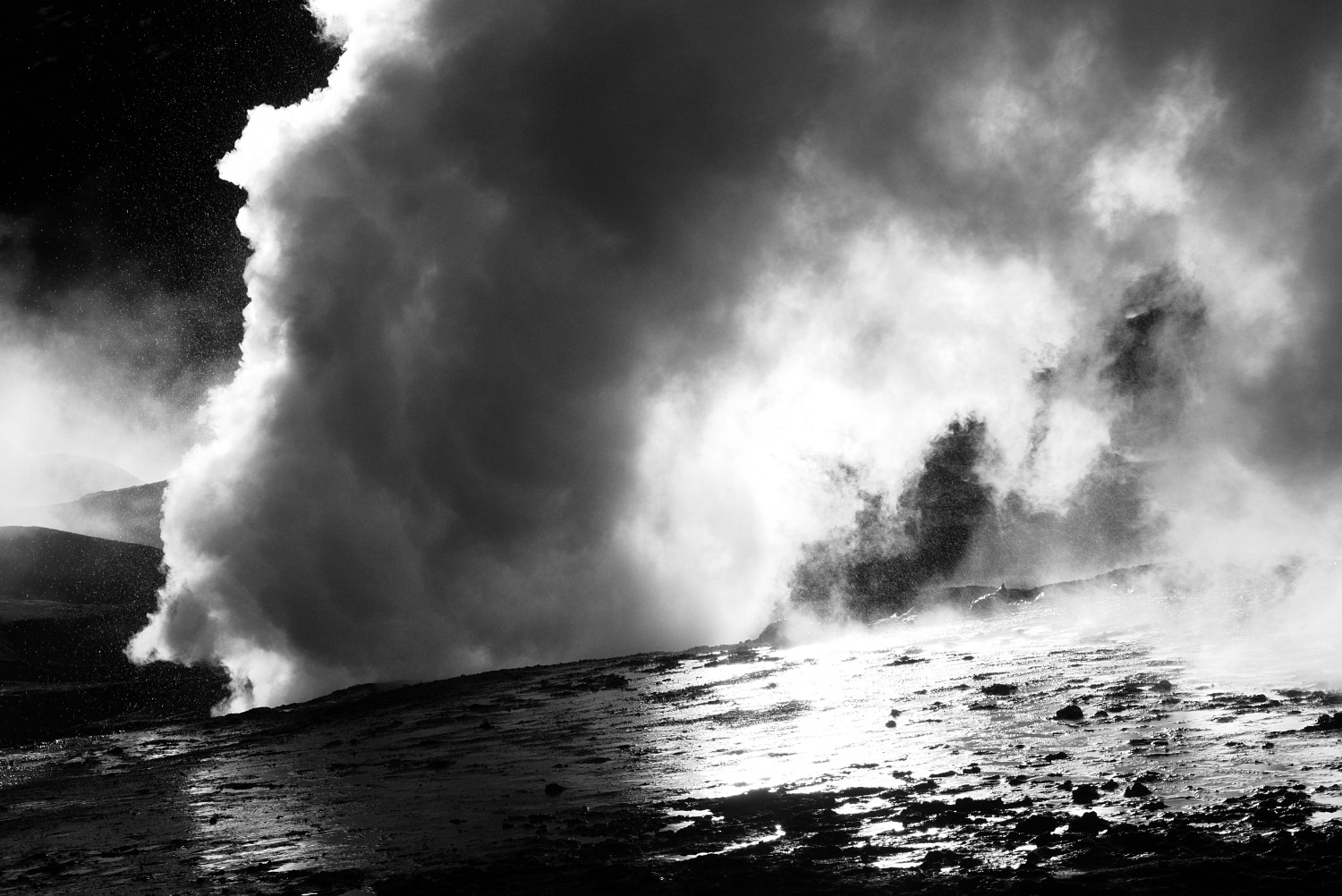 This is something that you will be able to handle for sure, but it will make your time unpleasant. I got used to wear gloves more frequently later on which was making the situation much more comfortable.
As a comparison: a middle European sleeping room has an air humidity level of around 40-60% ideally. In contrast, the Altiplano has normally a level between 20-30%.
Pictures